15 Fascinating Groups From The NYC Expo
BY

Daniel Villarreal
March 11 2013 9:56 AM ET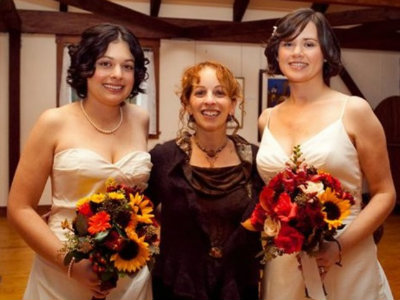 If you're looking to tie the knot, you might want to check out these matrimonious merchants:
Rony Tennenbaum - Because LGBT love is not like straight love, our engagment and wedding rings should reflect the uniqueness and spirit of our relationships. This jewelry shop has a great selection of rings unlike you've ever seen before in a variety of styles and prices.
Engayged Weddings - The owners of this site have interviewed each of their vendors to assure that they can capably work with LGBT people. And the photos on their site (like the one above) are of real customers too!
Biagio Cru - What better way to toast your new marriage than with a sparkling Egalite cremante de burgogne? They also have a selection of other light wines, sangrias and Irish cremes to get your guests in the wedding mood.
Cake Alchemy - Why go for a boring white-frosted wedding cake when you can get one shaped like a bunch of presents, a honeycomb suspended from a tree or even Snarf, the humanoid cat from the 1980s cartoon Thundercats cartoon?
Hartsdale Pet Cemetery & Crematory - When Fluffy and Fido pass away, you can give them an eternal resting place in this historic cemetary complete with a casket, funeral service and headstone. Aren't your four-legged, furry family members worth it?