Nelly Power: When Coming Out Isn't a Choice
BY

Christopher Harrity
November 05 2013 6:00 AM ET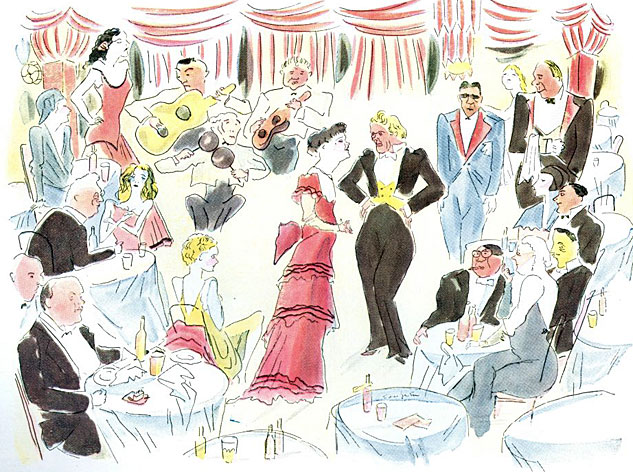 Above: Drag performer Helen Morgan Jr. and Jean (Gene( Malin at the Club Abbey in an ilustration that originally appeared in Vanity Fair
Big Gay Swish: Gene Malin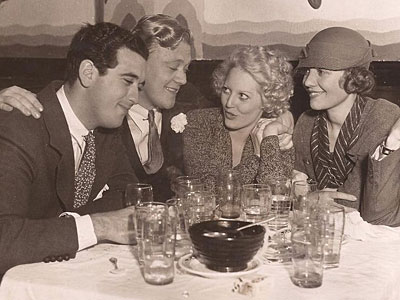 Gene "Jean" Malin (1908-1933) was an American actor, emcee, and drag performer during the Jazz Age. He was the first openly gay performer in Prohibition-era speakeasy culture.

Malin (second from left) at the Club New Yorker in 1932, with Thelma Todd, Pat Dicicco, Lois Wilson.
Brooklyn-born Malin had a precocious start, and by the time he was a teen, he was already winning prizes for his costumes he made for the elaborate drag balls of the 1920s.

After landing several jobs in the chorus in Broadway shows, Malin eventually began working nightclubs, not as a drag act, but taking advantage of the "pansy craze"* at the time in New York and performing as a very swishy and effeminate man.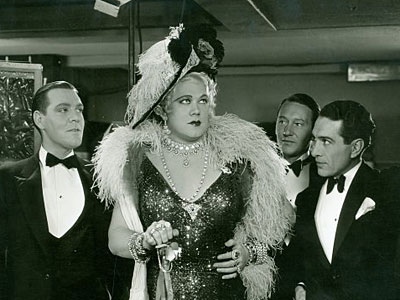 At left: Malin in a rare drag performance in the film Arizona to Broadway.
In the '30s Malin emceed at several clubs, and in 1930 he was reportedly the highest-paid nightclub entertainer of the year. He was a big man, and not afraid to throw his weight around. He decked a heckler at one of his performances, prompting Ed Sullivan to write, "Jean Malin belted a heckler last night at one of the local clubs. All that twitters isn't pansy."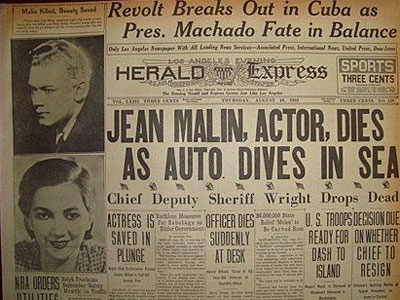 Malin's charm came from his elegant manner and ease as he walked through the audience. With all his lisping and swishing, he was not necessarily the brunt of the joke; his audience became co-conspirators.

He made a few films in Hollywood, including Dancing Lady with Joan Crawford, and recorded a few songs (see video below of "I'd Rather Be Spanish Than Mannish").

Unfortunately, Malin died young in a freak accident. After a performance at the Ship Café in Venice, Calif., one night, tt seems that Malin confused the gears in his car, and the vehicle lurched in reverse and went off a pier into the water. Pinned under the steering wheel, Malin was killed instantly; the other two passengers (one of whom was actress Patsy Kelly) were seriously injured but survived.
*The pansy craze is currently being celebrated on Broadway in the hit play The Nance starring Nathan Lane.