Nelly Power: When Coming Out Isn't a Choice
BY

Christopher Harrity
November 05 2013 6:00 AM ET
Closet Cases: Acting Gay Without Paying the Dues
The men listed previously were each notable in that they bravely faced public scorn for not only acting nelly or effeminat, but being open about their homosexuality. Some were a little later in being able to be openly comfortable with it than others. Charles Nelson Reilly never spoke about it till 2002, but he also never denied it. Reilly figured everyone knew.

Then there are the men listed below who swished publicly, being even aggressively flamboyant and nelly if it kept their purses full of cash, but have denied, demurred, and avoided talking about it.


Julian Eltinge: We Think the Lady Doth Protest Too Much

Before RuPaul, before Lady Bunny, and even before Tony Curtis and Jack Lemon donned dresses in Some Like It Hot, Julian Eltinge was one of the top performers and best known "actresses" in the nation, earning huge salaries before the Depression and the eclipse of vaudeville.

Was Eltinge gay? Transgender? A transvestite? Eltinge worked hard all his life to craft a picture of impeccable masculinity. He first garnered critical attention performing in feminine garb for the Boston Cadets Review at the age of 10. By 1904 he was performing on Broadway.

There were other drag performers at the time — Bert Savoy and George Fortesque, for example. But they performed caricatures of women — they were drag queens. What set Eltinge apart was his ability to perform female roles in a natural way — much to the astonishment and delight of his audiences.

Hollywood beckoned Eltinge, and in 1917 he appeared in his first feature film, The Countess Charming. This would lead to other films, including 1918's The Isle of Love starring Rudolph Valentino, with whom he was rumored to have had an affair.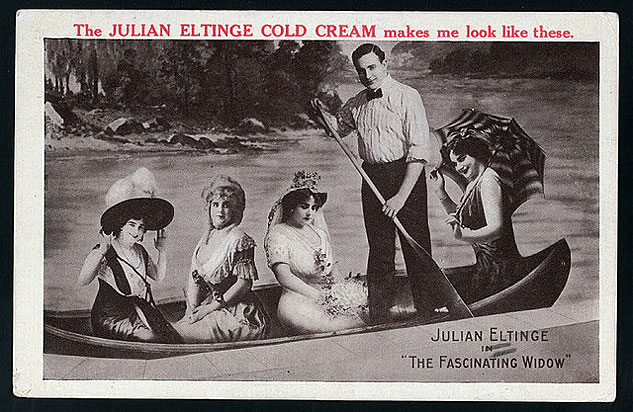 By the 1930s Eltinge's star was in decline. He was weary from his constant battles to uphold his heterosexual reputation, especially with his wife, who had found evidence of his affairs with men. Performing in Los Angeles was difficult for him as there was a national crackdown on cross-dressing in public. At one appearance in a Los Angeles club, Eltinge wore men's clothing while standing next to displays of his gowns and taking on his characters.

Eltinge existed in a time before language could aptly support his identity. He was perhaps a closeted gay man with a strong trans identity. But he became an extremely popular actress in the United States and Europe by performing naturally, with feminine grace, in dramatic roles as well as musical comedies. He normalized the concept of a cross-dressing performer for the American public.