Mary Lambert Teams Up With Nonprofit to Spark Dialogue, Find Support
BY

Sunnivie Brydum
January 17 2014 8:00 AM ET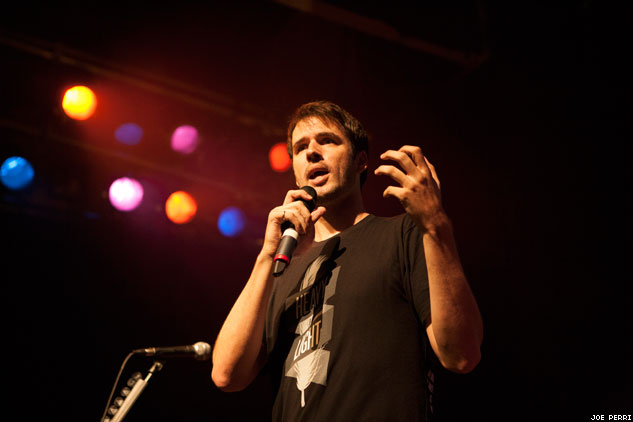 To Write Love on Her Arms began in 2006 with a story penned by founder Jamie Tworkowski. The story spoke of Renee, a troubled 19-year-old who Tworkowski and his friends and family helped care for in the days before she entered treatment for depression and substance abuse. In that story, Tworkowski wrote about prayer and his church community that helped to support Renee in her days before treatment. He wrote about God's love.
And while Tworkowski identifies as a Christian — indeed, many of the performers involved with Heavy and Light do — the event and organization have avoided being "pigeonholed" as a religiously affiliated group, he explains.
Tworkowski says:
We don't call ourselves a Christian organization, but there's some, I guess what you would call Christian language, that appears in the story that it grew out of. And one of the things I'm really thankful for is that we haven't been pigeon-holed. So often, if there's any trace of religion or Christianity, it gets reduced to that. And there's a lot of assumptions that go with that. And I love that we've been able to be allowed to grow to be known as something that is for [supporting people, not religions]. …

I think that, hopefully, the proof's in the pudding. So much of what we do — probably the biggest thing we do — is communicate. And we literally, every day, are trying to be a source of encouragement, are trying to move people. Trying to encourage people to know it's OK to be honest, to know it's OK to ask for help. That's what tonight is about. And I think if all different kinds of people are connecting with that, or seeing or feeling that, then hopefully that has allowed it. … Hopefully, when we point to the work that other folks are doing, beneath that is the idea that, hey, they must care about us. …

Every day we're getting reminded of so many people who struggle with the stuff that we talk about. And obviously you hear about the hard stuff, but you also hear about people finding hope and maybe even getting help and people staying alive. And so I think that's the stuff that really keeps [TWLOHA] going.