PHOTOS: A Serving of Andy Warhol's Pork
BY

Trudy Ring
September 10 2013 7:00 AM ET
Andy Warhol was a man of many art forms — a painter, a filmmaker, a creator of celebrity culture. What is less widely known is that he added "playwright" to that list with Pork, his only play, first produced at New York's famed La MaMa Experimental Theatre Club in May 1971. Now the Leslie-Lohman Museum of Gay and Lesbian Art is raising the curtain on Pork again with its photo exhibition "Pulled Pork: Unseen Images from Warhol's Only Play," running Friday through Monday.
The play, which carried through on its promise of "good dirty fun," revolved around the sex-and-drugs escapades of Amanda Pork, based on Warhol protégé Brigid Berlin and played by Cherry Vanilla. Among others in the initial production's cast were transgender performer Jayne (a.k.a. Wayne) County, along with Anthony Zanetta as Warhol-like character B. Marlowe and, in his theatrical debut, a very young Harvey Fierstein in a supporting role as an asthmatic lesbian maid.
The Leslie-Lohman exhibit includes more than 40 images shot by Leee Black Childers, the production's stage manager and official photographer, of both the New York staging and a mounting later that year in London. Childers — and yes, his first name is spelled Leee — was one of Warhol's artistic associates and a major figure in the New York underground scene of the 1960s and '70s. He went on to be tour manager for David Bowie and Iggy Pop from 1972 to 1974. He has documented his entire career through photos, and he published many of them last year in the limited-edition book Drag Queens, Rent Boys, Pick Pockets, Junkies, Rockstars and Punks.
Also on display will be selected works from Leslie-Lohman's permanent collection, including Warhol's "Sex Parts" lithograph series. There will be an opening reception Friday beginning at 6 p.m., featuring readings from Warhol's original script for Pork and a performance by musician Walter Steding, who often worked with Warhol, and the exhibit will be on view from noon to 6 p.m. Saturday, Sunday, and Monday. It all happens at Leslie-Lohman's Prince Street Project Space, 127-B Prince St., New York City, and admission is free.
The exhibit is curated by Kymara Lonergan and Oliver Klaassen and presented in conjunction with the Kymara Gallery. For more information, click here.
See more images from the show on the following pages.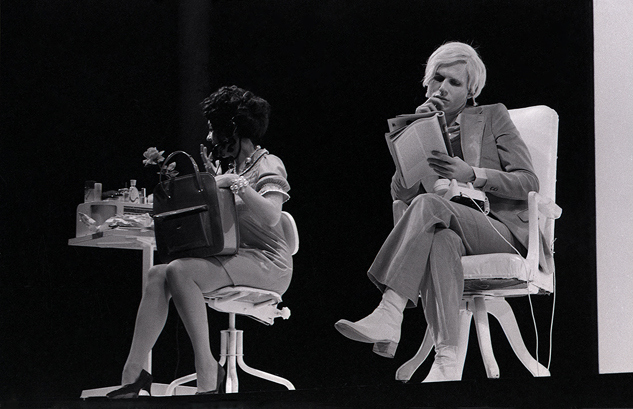 Anthony Zanetta (right) in Andy Warhol's Pork in London, 1971; photo by Leee Black Childers.