Artist Spotlight: Sascha Schneider
BY

Christopher Harrity
September 14 2013 4:00 AM ET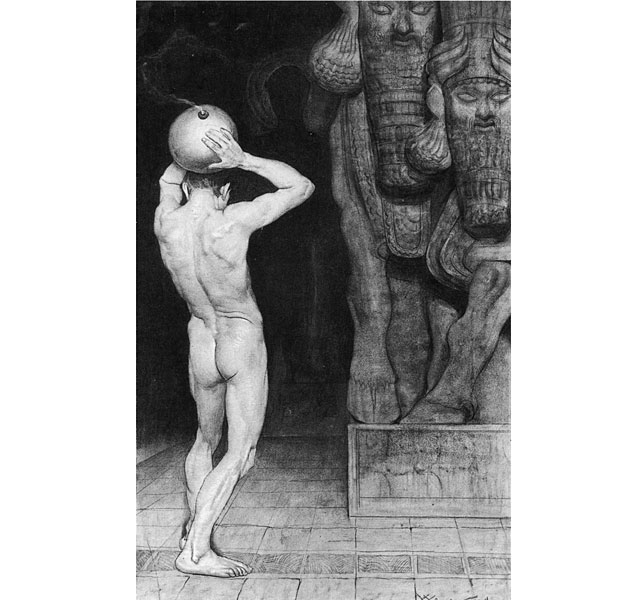 The Anarchist
A Strange Historical Interval
While the history of art is overwhelmingly a history of imaging the female nude, for a brief moment — and in Germany above all — it is instead a history of the male nude. Sascha Schneider was product and beneficiary of this unusual historical moment, one of the most fraught, contradictory and unresolved periods in the modern history of sexual regulation.

This strange historical interval, more developed in Germany in the early 20th century than anywhere else, goes by the English name of the Health and Hygiene Movement. In part a response to rapid industrialization, urban crowding, and the fear that modern life was weakening the inherent strength and drive of Germany's youth, this reformist movement proposed a bold solution, at once forward and backward looking: it advocated a return to a classical conception of the gymnasium — of training the body as well as the mind through youthful exercise outdoors, preferably in the nude, all in pursuit of a natural health and vitality. Conjoining an idealized youthful beauty, sport, and bold nudity, Freikörperkultur (which literally means free body culture) made paintings, photographs, sculptures, and especially public murals that today look strikingly homoerotic, merely part of the visual landscape of early-20th-century Germany.

Adherents of the movement claimed that only through the confident and shameless exposure of strong, beautiful, male bodies, would young German men throw off the enervating effects of modern life and return to their natural vitality. The emphasis on male nudity had a simple rationale: not only had modern life ostensibly put the German ideal of "manliness" under pressure — a dynamic that would have tragic repercussions with the rise of the Nazis — but since the erotic dimension of female nudity was widely acknowledged, male nudity was paradoxically framed as inherently purer and untainted by eros, as an image of German manhood and its strength and power without any admixture of desire.