Artist Spotlight: Sascha Schneider
BY

Christopher Harrity
September 14 2013 4:00 AM ET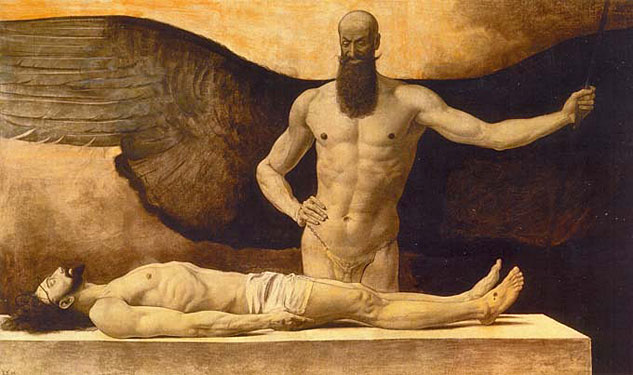 Triumph der Finsternis, 1896
Caught in the Conflict
Schneider, who emblematized Freikörperkultur in almost every work he ever did, nonetheless came to understand the limits of a social world that accepted homoeroticism but not homosexuals.

Schneider's fortunes as an artist were so intimately bound up with this historical interlude and its inherent contradictions that his career couldn't survive its passing. When he died in 1927 his star was already dimming. By the end of World War II, he was largely forgotten. But through the efforts of one man, the German collector Hans-Gerd Röder, who became fascinated by this unknown figure while still in his 20s and began to seek out every work by Schneider he could find, a tattered reputation in modern art history has been painstakingly restored. Mr. and Mrs. Röder and their family have generously agreed to lend their collection of masterworks to the Leslie-Lohman Museum.
"Nude in Public: Sascha Schneider, Homoeroticism and the Male Form circa 1900"
Curated by Jonathan David Katz

Exhibition dates: September 20-December 8
Opening Reception: September 20, 6-8 p.m.
To see more of Schneider's work click though to the following pages >>>