One Gay Artist vs. India's 'Moral Police'
BY Christopher Harrity
January 03 2014 5:00 AM ET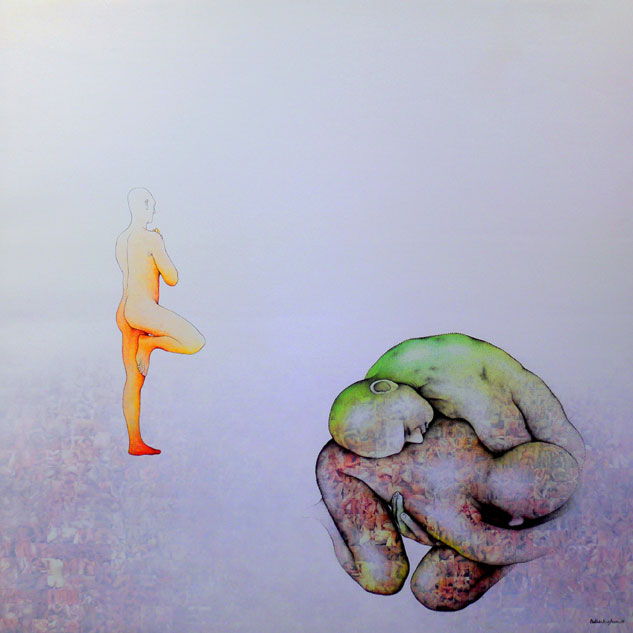 This Is Not Dark Life
Acrylic on canvas
37" x 37"
Mike Giangrasso continues:
Balbir Krishan had a troubled childhood in his home village and was forced to run away to Delhi to scratch out a living. He sold everything from trinkets at intersections to his own body on some of its meaner streets. Numbing hunger and homelessness drove him to submit to servitude as a cargo boy with cross-country truckers and, after a brush with death, to opt for a return to his village. He was 17. Hardened, but emboldened by his misadventures, he dictated the new terms of his life there. He finished school and then did what few farming families expect of their sons and daughters: He went on to higher education at the provincial center of Agra and excelled at his studies.


At Agra he confided to a friend his emerging sexuality and was promptly outed. Devastated by the ensuing public shunning and humiliation, a feeling that he was "done" took root and grew. One day he laid down his life on the railroad tracks outside the city. When he regained consciousness in a hospital, he was stung by the fact that he was still alive, and still gay. That was the beginning of his awakening. Of those events of almost 20 years ago, Balbir says, "I lost my legs, but I won my life."

All these years since, whenever asked to tell about what happened, Balbir has spoken of his suicide attempt as a train accident, and that became official. He carefully managed who would learn the staggering truth, and they were three people, until now: a friend, a former partner, and me. Mercifully, the news of his outing didn't travel with him on the long road back to his village from Agra. Though an open secret, Balbir kept his homosexuality at home carefully tucked away in the closet, away from the village's prying eyes.

A teacher from his college took him under her wing and arranged for him to finish his degree from his bed by sending him a steady supply of books. When he was able to get up a year later she located a charity that gave him a hand tricycle, and he managed to get himself back on a train to Agra to sit for exams.

From his bed Balbir also taught himself how to paint. He found a job as an art teacher at a village school without running water or electricity and was paid $30 a month. He taught by day and painted at night.