Intolerable: Growing Up Gay in the Middle East
BY
October 02 2013 7:00 AM ET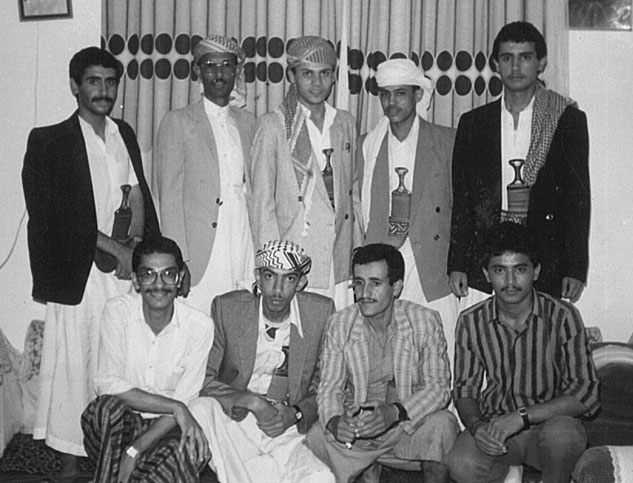 Above: "Shortly after leaving Cairo and its underground gay scene behind for a new life in Sana'a, I had no choice but to socialize with Yemeni men — men with whom I had little in common and whose names and stories I've completely forgotten now," says the author.
After fifteen years it was time to say goodbye to Cairo. My mother flew back from Yemen to help with selling the furniture and to pack years and years of clothes and collectables. When she and my sisters had departed for Yemen a few years earlier, they had left most of their belongings in Cairo. Perhaps they were secretly hoping they'd return after a year or two of Sana'a. Maybe if they left some clothes in Cairo, Yemen wouldn't seem so permanent.

Wahbi and I were responsible for arranging the furniture sale and using the proceeds to buy our plane tickets. Neither of us was any good at that sort of transaction and the shrewd second-hand furniture dealers saw through us. One after another they made lowball offers — everything for three or four hundred Egyptian pounds — hardly enough to pay for one ticket, let alone two. It was a handy reminder of the gap between us as Yemeni expatriates and Egyptians and, to my brother, another reason why we should leave. We saw ourselves as part of Cairo society, and they saw us as rich Arabs to whom a few hundred pounds would make no difference.

Back then, you didn't just call a second-hand store and ask them to come and have a look; you actually had to go there and bring the owner or an employee home. When I was asked to bring back a furniture seller from the working-class neighbourhood of Imbaba, I took a taxi there and expected a ride back in the shop owner's truck. I did get a ride back. On a donkey cart. I had seen them on the streets of Cairo before and in movies but never expected to ride in one. I don't know if I ever told any of my friends in Cairo about that experience. To me now, it's just another quirky Cairo story. At the time, I was mortified. When we eventually made it to our street, the salesman, as expected, made an even lower offer than the rest.

That's when my mother stepped in. Safia may have been illiterate, but she knew how to bargain, having shopped in Cairo's food markets for years. When the salesman was about to stage the first of his many walkouts to force us into accepting his offer, Safia made him a counter-offer. I can't remember the exact figure, but it was above what we told her two airline tickets to Sana'a would cost. She asked him to accept it now and she'd throw in some clothes — including some of her fur coats, which she hadn't worn since the early 1970s — or he could leave right away and not come back. A minute or two later we had a deal. Cash in hand. For about a week or so, we had no furniture except the beds, which the seller returned to pick up on the day we left for Sana'a.


I've taken many plane rides before and since and have moved from continent to continent in the last two decades, but nothing came close to how frightened I felt holding that one-way ticket from Cairo to Sana'a. What would I do in Yemen, and what would Yemen, a country that punished homosexuality with public hanging or lashings, do to a twenty-two-year-old gay man like me?
Kamal Al-Solaylee, an associate professor and undergraduate program director at the School of Journalism at Ryerson University, was previously a theatre critic at The Globe and Mail. He has written features and reviews for numerous publications, including the Toronto Star, National Post, The Walrus, Literary Review of Canada, Xtra!, Quill & Quire, and Toronto Life. Al-Solaylee holds a Ph.D. in English literature from the University of Nottingham. He lives in Toronto.