Catherine O'Hara Talks About Monster in Paris
BY

Diane Anderson-Minshall
April 16 2013 7:31 AM ET
The French animated film that stunned audiences with beautiful graphics, two best dude friends who "conceive" of a monster together, a queer love between a girl and said monster, and a freak with a secret who just wants to have a career (see, queer, right?) finally got its American counterpart when the visually opulent A Monster in Paris hit American theaters earlier this year. Though the lead voice actor, Vanessa Paradis (as Lucy) remained, otherwise a whole new American cast was set for this English version of the 2011 French film. The new edition was written and directed by Shark Tale's Bibo Bergeron, sung by Paradis and Sean Lennon, and voiced by a bevy of great actors, among them Catherine O'Hara, Adam Goldberg, and Bob Balaban. As Monster comes out today on DVD and on a two-disc Blu-ray 3D combo pack from Shout Factory, we spoke with O'Hara about the film.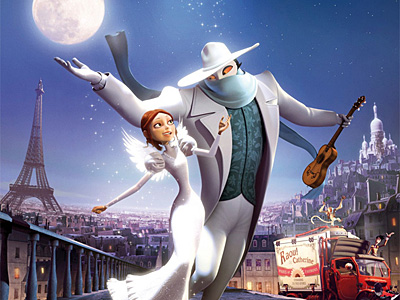 The Advocate: I love that at heart, Monster in Paris is a love story between a woman and a giant singing flea. What attracted you to the project?
Catherine O'Hara: Just that! It's an original story, and the illustrations I was shown were beautiful and timeless.

You, of course, play Madame Carlotta, the woman trying to ruin that by pushing your niece Lucille into marrying a sort of wealthy blowhard. Do you think little girls watching the film will get the feminist aspects of it?
I guess the story is feminist if you compare it to the old animated films in which the girl is finally saved by her prince. But if it makes any girl or boy question the bad dating advice of anyone and instead follow their own heart and mind, that would be lovely.