Garret Dillahunt Tackles Gay Adoption in Any Day Now
BY

Diane Anderson-Minshall
December 13 2012 5:00 PM ET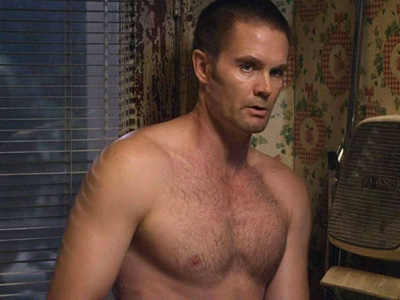 You had a stellar episode this season on Rasing Hope, a show that I think always raises the stakes when it comes to smart humor. In the "Don't Ask, Don't Tell Me What to Do" episode you end up at a gay bar and love it and keep going back for more. Between that episode and the new film, did you have to do any method acting? Research? Maybe snogging a couple of guys with your wife's permission?
Ha. This ain't my first rodeo.
This wasn't your first queer role at all. You were in Angels in America on stage and then on the series Leap Years you were bisexual (and later gay) and had a romance with your real-life wife, who is herself a damn fine actor as well. What have these roles brought to your life/career?
Money. Millions and millions of dollars. Well, any great role brings a sense of accomplishment and pride. In Angels in America, for example, I felt like I was a part of history. I'll tell you, though, I look back at that script now — all those monologues! It's terrifying. I can't believe I did it. No better writer out there than Tony Kushner. See Lincoln.
You grew up in Washington which yesterday became the first state in the nation to officially have voter mandated same-sex marriage. How does that feel to know your home state is so progressive on this issue?
Stunning. I was as surprised as anyone.
Lastly, despite your rather expansive oeuvre, I always wonder how often people still think of you as the guy who liked to kill prostitutes on Deadwood?
Actually, I get more "droop-eyed" references to the first-season character. David Milch is another great writer. I am a lucky boy, huh?