The Brutal and Beautiful Kate del Castillo
BY

Sunnivie Brydum
March 19 2013 5:00 AM ET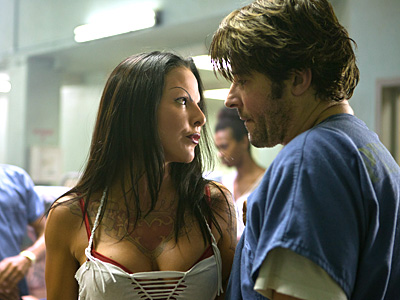 Did you ever get a chance to visit the actual K-11 ward in L.A.?
I couldn't because there were a lot of issues. They didn't want us to go there. It was very hard for us to get there, so I couldn't. But you know what, we shot the whole film inside a jail that was a real jail [that] they wanted to tear down. And so the whole place was just scary as hell.
I believe that. When I spoke with director Stewart, she actually said that this was a "feel-good movie." I was kind of surprised by that, because when I saw the film, I felt more like you — that it was a harsh film. It's well-done, it's a powerful film, and it affected me, but I wouldn't say that it's a feel-good movie, despite the resolution at the end. But what would you say to encourage folks to watch the film, or what would you like to tell folks before they see the film?
It's very hard to label the movie with one word. It is a feel-good movie at the end. You know, you have revenge. But it's also a harsh movie. I don't know exactly, how can I label it? You just said it. It's a very powerful film, with very colorful characters. Because it is about the characters in this small world inside a jail, and that we really cannot know about. So I think we learn a lot from the movie, about this place, and transgender human beings that we, unfortunately, don't know a lot about. It's there, but we really don't know anything about them. So answering your question, I don't know. I would say a very powerful movie in many ways.
Do you have any connections to the LGBT community personally, in your life?
No. Well, now I have a lot of friends [who are] transgender. But I've done things, and been a grand marshal at the Los Angeles Grand Bicentennial Parade and Festival [celebrating Mexico's day of independence, in 2009]. I think they like me, and I love them, even before the movie. I am very happy because I learned a lot.
Mousey is such a fierce character, and I think the way you can flip on a switch between being very sweet and kind of coy to just being brutal, I think that was really impressive and believable for your character.
Thank you so much, and I appreciate you saying that. Because it was a lot of risk and a big, big challenge for me. So I'm glad that you liked it. And yes, I think that she has those things. You feel sorry for her, and on the other hand, she's a bitch. She is! So yes, she has that duality, which I love.
Did you do any research on transgender identities before you started filming?
Yes, I did. I did as much as I could, on the Internet, and now you can do so much. And I remembered that amazing movie, Transamerica. So I tried to contact Felicity Huffman's vocal coach there [Calpernia Addams and Andrea James] and I did, so she helped me a lot.
Watch Del Castillo interact with costars Goran Visnjic (ER), Jason Mewes (the Jay and Silent Bob series), and D.B. Sweeney in the film's official trailer, below.