9 Great New Scary Movies With LGBT Themes
BY

Diane Anderson-Minshall
April 25 2013 2:20 PM ET
UPDATED:
April 26 2013 1:17 PM ET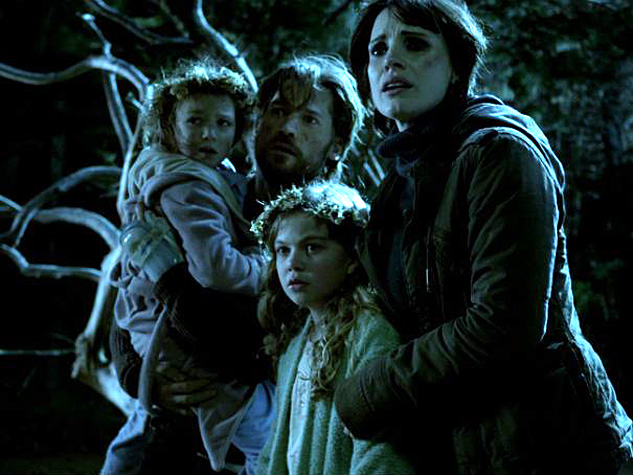 Mama
Fans of Jessica Chastain (Zero Dark Thirty) will find plenty to like in the subversively feminist little tale about one mother's twisted love that's masquerading as blockbuster horror film. Produced by the master of thinky thrillers, Guillermo del Toro, and co-starring Game of Thrones hottie Nikolaj Coster-Waldau, the film is available on Blu-ray Combo Pack, DVD, and on demand on May 7 (it's already available on digital download). The flick follows two little girls who vanish from their suburban neighborhood on the day that their parents are killed. Coster-Waldau (as the uncle) and Chastain (as his girlfriend Annabelle) want to adopt the sisters after they are later found alive, feral, and living in a decrepit cabin in the woods. Annabelle does not want children, these or her own (she even celebrates a negative pregnancy test early in the film) so she seems an unlikely mother figure. No worries, the kids seem to have come with their own parental unit, perhaps something odd and unnatural that's been parenting them all these missing months. The edge-of-seat moments in Mama are enough but the story here is really best reading between-the-lines. It's a treatise on who is allowed to parent and who isn't, who gets to make the rules around unfit parents, and it's an issue that's particularly key for LGBT parents. Annabelle is a bass playing, Joan Jett type, perhaps thought to be unfit as a mother but really shows she is by the end; she could be transgender or lesbian or even bisexual. In fact, in my viewing, I just assumed she was the latter.
Bonus: The Blu-ray and DVD sets offer extra features including an in-depth look at the digital and practical effects that went into making the film, deleted scenes, feature commentary, and the original short that the movie Mama was developed from with interviews with the filmmakers that tracks the bloodline of the feature and explore the changes that were made to transition to a feature-length film.