9 Great New Scary Movies With LGBT Themes
BY

Diane Anderson-Minshall
April 25 2013 2:20 PM ET
UPDATED:
April 26 2013 1:17 PM ET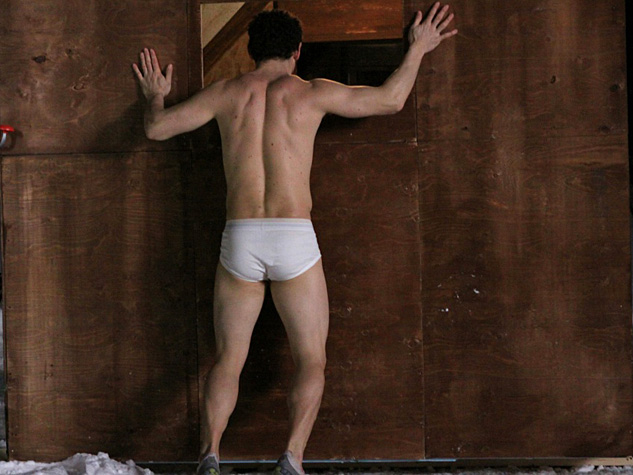 Eddie the Sleepwalking Cannibal
Fans of Ira Sachs' great 2012 gay film, Keep the Lights On, and it's award-winning star Thure Lindhardt, might be surprised by Lindhardt's latest turn as a creatively stifled artist in the clever dark comedy, Eddie the Sleepwalking Cannibal. This quirky soon-to-be cult film, which opened in theaters and on demand earlier this month, Lindhardt is Lars, a former darling of the art scene who takes a teaching job at a tiny college in some remote, snow capped Candian town after falling on hard times. One of Lars' new students is Eddie, a mute and gentle hulk of a man, who has been left homeless by a recent death. When his boss convinces Lars to take Eddie in (the film posits that he does so to impress a girl, but we know that's not true), Lars discovers the guy is a sleepwalker, a homicidal one. The sight of Eddie's first kill (of a wild) is horrifying but also strangely enthralling, and it inspires Lars' best painting in years. Soon Lars is pushing Eddie to make deeper cuts to the town's already tiny population, all for the name of art. In the process though, the two men develop a sweet and loving relationship that is makes this film at its heart a sweet-hearted romance between two men who don't even realize they are falling in love. Plus, you know, there's the bonus gory reality of cannibalism, a takedown of the pretentious art world, and the splendor of Eddie in his tighty whities hunting small town bigots in the dead of night. The director, Boris Rodriguez, calls the film "playfully malicious;" add the phrase "subtextually gay" and you got Eddie in a nutshell.