9 Great New Scary Movies With LGBT Themes
BY

Diane Anderson-Minshall
April 25 2013 2:20 PM ET
UPDATED:
April 26 2013 1:17 PM ET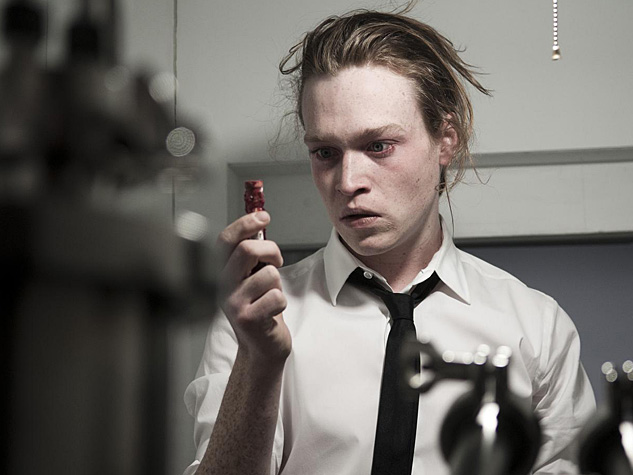 Antiviral
When your father is originator of the body horror genre, the pressure is on. But filmmaker Brandon Cronenberg (son of David, the director of The Brood, Dead Ringers, eXistenZ, M. Butterfly, and numerous other films) has done the family name proud with Antiviral, a flim that just may be the country's first transgender horror film even though the T word is never once mentioned.
This striking body-horror debut offers a moody and fascinating depiction of a future world so obsessed with celebrity that people will pay to have infections injected in themselves if the originator of the virus is a Hollywood star. In this dystopian world, Syd March (played with understated precision by Caleb Landry Jones) works at the Lucas Clinic, whose profitable business is based on deliberately infecting paying customers with diseases harvested from top celebrities, thus providing a "biological communion" between stars and fans.
The founder of the clinic tells his employees that "celebrities are not people. They are group hallucinations." It's a telling statement that frames the vivid and stylized film's dark narrative.
Syd also manages to make some extra cash selling viruses to the black market, but he has to sneak them out after injecting them into his own body. When he harvests a virus from Hannah Geist, the country's hottest starlet, she dies and he must find out what killed her before it kills him too. (Like all body horror films, this one too has undercurrents that could allude to HIV infection.)
As Syd moves through his world, his physical body vividly deteriorating, his fixation on Hannah broadens. But it's never sexual, though, even as it's made clear that Hannah is among the country's most desirable females. The film speaks of asexual penetration (the virus is in him, she is in him), alludes to Hannah being gender variant or gender non-normative (allusions to rumors about her body, that she's "deformed" or has no labia, for example), and leads us to believe that Syd doesn't want to do Hannah, he wants to be Hannah.
There's no missing the film's incisive takedown of modern popular culture, but less astute viewers might mistake Syd's attachment to Hannah for heteronormative obsession. It's hard to miss the transgender elements, though, whether it's through bodily function, or through scenes in which the clinic leader tells onlookers, "I think sexual politics are involved because of cell penetration by the virus. The original host takes on the role of the male, and the newly infected takes on the female. The infected changes gender to infect others."
The ending, which I won't spoil here, takes the idea of genderless penetration to its most visceral and perhaps cringe-inducing state. Well done, young Mr. Cronenberg.