Where to Find Great Gay Action
BY

Diane Anderson-Minshall
April 26 2013 7:25 PM ET
UPDATED:
April 30 2013 9:08 PM ET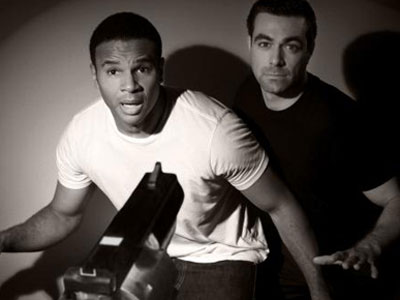 Doug Spearman wanted his new film to feel like Lethal Weapon if Danny Glover and Mel Gibson were better looking and ex-boyfriends, and it is indeed a worthy gay action-comedy-thriller that mixes '40s noir with '80s buddy action comedies. It follows Danny Lohman an an actor who learns to be a private investigator in order to get a part. But after learning about a crime wave targeting Hollywood's elite (including Pip, Danny's spoiled, trust fund ex), Danny, Pip, and Danny's PI mentor Jimmy team up to solve the case, facing danger and drama along the way. It's a fun ride with some great insider humor and nods to film and theater history (his name is Lohman; get the nod to the famous salesman?). Even better, it's a real rarity: a gay action movie you'll want to watch again and again. The closing night film, it shows May 4, 8 p.m., at the Colony Theater in Miami Beach.
HOTGUYS TRAILER FINAL from Doug Spearman on Vimeo.