Laura Leighton: The Bitch Is Back
BY

Brandon Voss
September 08 2009 2:20 PM ET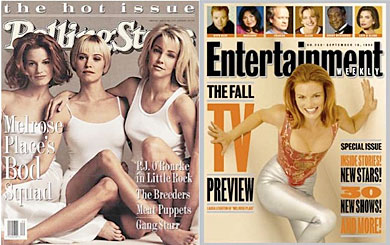 Why did you leave Melrose Place at the end of season 5? 

Five
 years is a normal run of an original contract, and the five years had
come up for most of the cast. A lot of us were reaching that point when
it just felt like a natural time to move forward and find out what was 
next, and I fell into that category. I felt like I'd told as many crazy
 stories as I could with the character at the time, and I didn't want to
 resent the character or the stories. Also, it was my very first job, so
 my life kind of went from zero to 60. I was a bartender and a waitress 
in Los Angeles in the same year that I suddenly landed on a hit 
television show and found myself on the cover of Rolling Stone. It was 
this bizarre, fast-moving train that didn't stop for years. It was a
 wonderful ride, but I felt a bit overwhelmed, and I didn't have a calm
 perspective. There's something disorienting and disconcerting about
 that feeling, so I wanted to slow down, process things, and be normal 
for a little while. I remember my agents and people around me saying,
 "You need to go right onto another show because they only want to hire 
you for other shows if you're on one right now. It's going to be much 
harder to get a job if you take a break." But I just didn't feel 
comfortable jumping right into something else. I really needed a break.
 I needed to go be myself. 


Did you watch the show after you left? 

No, I didn't watch it, but only because I wasn't ever really a very big TV watcher. 


Did you have to fight against being typecast as a crazy bitch?


When
 I first left Melrose I was really craving normal, smart women — not
 vixens and bad girls. I remember walking into auditions and feeling 
that people were puzzled when they met me because they were expecting 
someone much more obnoxious; I felt like they were disappointed that I
 wasn't nearly as interesting as the characters that I'd played. But
 when you play a lot of lawyers and regular people without much
 mischief, you start craving the fun again. Sydney was the most fun
 character I've ever had, so to play her again is an unexpected gift.
 It's good to play a variety, but bad girls are more fun.
When producers first contacted you about returning for the Melrose update, did you remind them that Sydney was dead?
When 
I heard they were going to make a new version of Melrose, I never
 assumed I would be involved in any way. So I was completely surprised
 when they called and said they wanted to talk to me about an idea for 
how to bring my character in. I was like, "But I'm dead, aren't I?" So 
I was cautious but curious, and that's the attitude I went in with to 
hear their pitch. 


It was leaked to the media months ago that 
most of your scenes would be flashbacks since Syd's found dead in the
 apartment complex pool during the pilot. Why did producers spoil that so early?

I think they felt like it would be too difficult to keep 
it as a secret, and they wanted to confront the cool element that it
 adds to the show rather than work so hard to conceal it.
Is Syd dead for good this time, or is there hope for another revival?


I 
think their intentions are that Sydney's really dead. I serve a purpose 
to link the past to the present, and I also bring a noir mystery
 quality to the first season. But they really want focus on the new cast
 of characters, and I'm sort of a nod to the past. 


The last actress to play dead in that pool, Kristin Davis as Brooke Armstrong, went on to star in Sex and the City.


I forgot that someone else died in that pool. What season did that happen… I guess I should ask you, right?


Season
 4! Ashlee Simpson-Wentz plays Syd's long lost daughter Violet in the
 new series. Did she and the other younger actresses look to you for any 
motherly guidance and wisdom?


Well, girls in their 20s don't exactly 
turn to a woman in her 40s for advice. [Laughs] I do have a different
 perspective and certainly a different life than most of the other cast
members; I'm juggling a family, so my mind is on that when I'm not
 working on set. Right after we shot the pilot we were in New York for 
the upfront presentations, and it was our first time all together as a 
cast. We were meeting some magazine editors, going from office to
 office, and I did find myself turning to the cast in the lobbies of
 office buildings and going, "OK, does anybody need to go potty? Because
 now's the time." And I'm the one they came to if they needed Chapstick 
or hand sanitizer.