WATCH: This Week in LGBT TV
BY

Diane Anderson-Minshall
January 13 2013 2:08 PM ET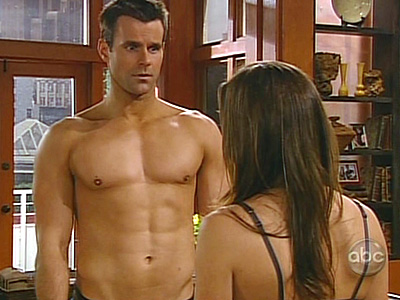 Soap Operas Are Coming Back
Big news for fans of All My Children and One Life To Live: the shows will be revived on the Internet after all, according to On the Red Carpet. Both series had four decade-long runs on ABC, and ended their broadcasts in late 2011 and Jan. 2012, respectively.
According to OTRC.com, Prospect Park announced that a licensing deal was reached with the network in July 2011, saying that the shows would continue to air original episodes online. But they never did, reportedly because talks between ABC and Prospect Park went south. All My Children had a lesbian character, Bianca, before most other soap operas even thought of gay storylines; One Life to Live had the first gay sex scene on daytime TV in 2009.
The series' will air on a new web TV network, as yet unlauched, called the Online Network (TOLN) website.According to OTRC, the statement from Prospect said that the production company had a "consulting agreement" with Agnes Nixon, the creator of both shows, which guarantees her "active involvement." Air dates have not been announced but Jennifer Pepperman (a former OLTL director) was named executive producer of that show and Ginger Smith, a producer All My Children, was named executive producer of that series.
Many actors, including hunky Cameron Mathison, are rumored to be returning, but no official announcements have been made.
"We... are thrilled to bring our beloved viewers new, ongoing stories from Llanview and Pine Valley," Nixon wrote on her website last week. "I'm overjoyed that so many actors you love have voiced their desire to bring their characters back to life.I'm especially grateful to Prospect Park for deploying the power of you, our fans, to enable this exciting transition to dramatic production for the Internet," she added. "It's a historic moment, comparable to how life was changed when television took over for radio. We hope this wonderful opportunity will be embraced by all as our creative teams gear up to bring our beloved serials back to our daily lives."