The LGBT Parents of Prime Time
BY

Diane Anderson-Minshall
January 14 2013 12:00 PM ET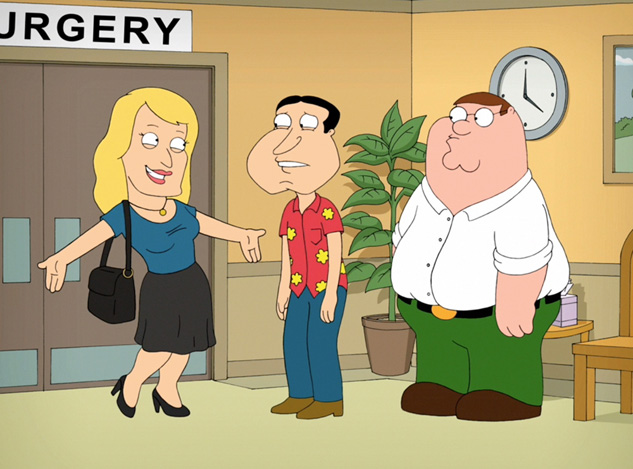 Quagmire's dad on Family Guy
Family Guy is a show with a lot of Seth MacFarlane's signature wit and potty-centric sophomoric humor, so its handling of a transgender character coming out could have been a lot smoother. Quagmire, the lecherous best friend of the titular Family Guy (a.k.a. Peter) learns his father is going through gender reassignment after the guys convince him that his dad is gay (based on some formulaic sterotypes like drinking fruity cocktails and liking show tunes). But then Ida, the trans woman who Quag's dad really is, undergoes transition and must struggle to fit in with Quagmire and his transphobic peers. And Ida gets her groove back with Brian, who later does a Crying Game-style vomit jag upon learning Ida was once in a male body. Some LGBT folks loved the episode; many did not. But perhaps trans author Matt Kailey summed up why Ida herself is a great addition to TV: "She's a sympathetic character. Her initial portrayal as a rather swishy sailor prior to her transition doesn't reflect the reality of most trans women I know (but they obviously needed to stick in some gay jokes somewhere, so as to be equal-opportunity offenders), but while all the loony characters around her are losing it, she holds it together very nicely. Ida is the only one who doesn't come across as clumsy and clueless. The only mistake she makes is waiting too long to come out to her son, but she admits that at the end, and she can be forgiven — after all, she has to come out, start hormones, have surgery, and go clothes shopping, all in about 22 minutes."
Subsequent episodes dealt with Quagmire's discomfort and later acceptance of his parent's transition, and now she's just a recurring character as "normal" as anyone else on the show.