TV That's Better Than Downton Abbey
BY

Trudy Ring
January 25 2013 8:00 AM ET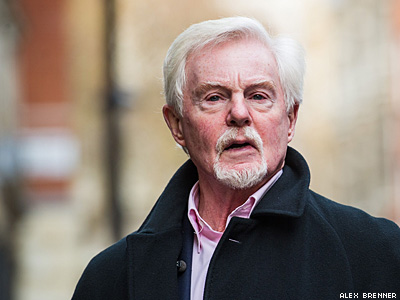 Derek Jacobi hosts one of the episodes.
The current series, meanwhile, also incorporates film clips of iconic performances of the plays, among them a group that will air on PBS later this year. Under the umbrella title The Hollow Crown, the BBC filmed four of Shakespeare's most beloved "history plays," Richard II, Henry IV (a two-parter), and Henry V, for broadcast in the U.K. last year, and PBS will show them to U.S. audiences this fall. Cast members include Ben Whishaw and Patrick Stewart in Richard II; Irons, Tom Hiddleston, Simon Russell Beale, and Julie Walters in Henry IV; and Hiddleston and John Hurt in Henry V. These are "wonderfully intelligent" adaptations, Irons said.
But he cautions audiences not to be intimidated by the intelligence of Shakespeare's work. "Everybody teaches it badly at school," Irons said, so often people think of the plays as either excessively challenging or something that's boring but good for you, like vitamins. Actually, he and Denton noted, Shakespeare was writing the popular entertainment of his day, and like the popular entertainment of today, his plays had wizards, witches, fairies, special effects, and many other features that still draw viewers in. He also wasn't above plagiarizing others' work, which was considered normal in his time, and was more than willing to bring back well-loved characters, such as the charming comic rogue Falstaff of Henry IV, who appeared again in The Merry Wives of Windsor. "He created show business, really," Denton said.
What's more, Shakespeare dealt with universal issues, such as the father-son struggle at the core of Henry IV. "Why Shakespeare was the greatest dramatist of all time is that he was writing about the human condition," Irons said. "When we see these plays now, they still speak to us."
They've also inspired other works; for instance, Gus Van Sant's gay-hustler film, My Own Private Idaho, drew heavily on Henry IV. And the animated Disney feature The Lion King, which has probably brought Irons (at least his voice) a bigger audience than any other film, has echoes of Hamlet. "The way people use Shakespeare is wonderful," said Denton.
But he and Irons emphasize that it's definitely worth going back to the originals. "I'm not so sure I'd say, 'You've seen The Lion King, don't bother with Hamlet,'" Irons said.
"As an actor, I realize Shakespeare is gold dust," he added, but said becoming proficient at performing the Bard's work takes "practice, practice, practice," as in the old joke about how to get to Carnegie Hall. "You can't sort of mutter it in a sort of Downton Abbey way," he said.
His skewering of the popular PBS show, including his comparison of it to an economy car while Shakespeare's work would be a luxurious Aston Martin, made a public TV executive at the TCA event rather apoplectic, so Irons eventually became conciliatory. "I'm an awful television snob," he admitted. "I don't watch much television. I've never seen Downton Abbey. So I don't know what I'm talking about, basically. I'm sure it's splendid."
But Shakespeare Uncovered, he promised, will be television worth watching. The show will air from 9 to 11 p.m. Eastern/Pacific tonight and the next two Fridays; check your local listings, though, as some PBS affiliates opt for different times. And watch video previews below.


Watch Henry IV & V with Jeremy Irons on PBS. See more from Shakespeare Uncovered.
Watch Richard II with Derek Jacobi on PBS. See more from Shakespeare Uncovered.