Meet the New Hunks of Battlestar Galactica: Blood and Chrome
BY

Jase Peeples
February 18 2013 12:00 PM ET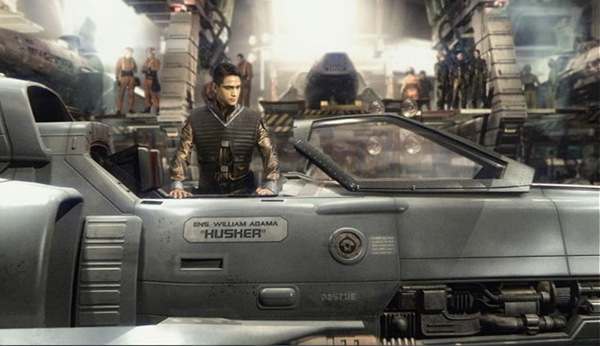 Do you think there's still a chance Blood and Chrome will continue in some form in the future?
Pasqualino: We just need to see how well it's received, keep our fingers crossed and hope for the best. We had a great time working on it for the four weeks that we shot the pilot and to carry that on would be absolutely fantastic. But with me and Ben, it's entirely out of our hands now.
Luke, did you have the chance to chat with Eddie Olmos for insight on how to approach playing William Adama at a younger age?
Pasqualino: I was given Eddie's email address and we were sending emails backward and forward, but none of it was really about the work in terms of material and script and performances. More about just what's expected, kind of the head to go into this whole thing with and just what to expect really. I think Eddie's fantastic. He did an amazing job and he's got such a huge fan base. I feel like he helped make Battlestar what it is today. And I didn't really want any advice performance-wise from Eddie because, I think, Adama at the age that I portray him compared to the age that Eddie portrays him, are two completely different stages of life. I didn't want anything that Eddie said to me to really affect my interpretation of the material.
There's fantastic chemistry between your two characters in Blood and Chrome. How did you two prepare for Battlestar's newest bromance?
Pasqualino: For me, it came from me and Ben becoming such good friends. We didn't feel that we had to hold back on any kind of performance. I knew if I wanted to scream in his face or laugh at him, I could've. [Director] Jonas Pate gave us free reign to take our performances wherever we wanted in terms of improvisation and all of that and I think being able to explore every realm of our characters' relationships [helped.] It was a great team effort.
Cotton: I found there was a real freedom...to let it go and just play with each other like Luke said. Jonas would allow us to find it and to do the work to have relationships that were beyond what was on the page. I think that really helped to create chemistry between the characters.
A production like Battlestar Galactica uses an enormous amount of CGI effects. Was it difficult working on sets that relied heavily on green screen?
Pasqualino: I can say I was a little bit daunted by the whole thing when I first realized the scale of how much green screen we would be using. You would think it would've caused problems in terms of where you're going to be. But I think the hardest thing for me was really the stuff in the spaceships; when something hits the wind screen or blasts something you actually don't have any of that to play to. All we have is a tennis ball on the end of a stick that you have to follow. That was really the hardest for me, but I think we kind of adapted to it a lot quicker than we thought we would.
Cotton: Early on, after watching some of the dailies I realized I wasn't taking in the environment as much as I would if I was actually in some kind of Cylon facility, but once I figured that out I didn't find it to be too challenging at all. The hardest part was [wearing] the helmet. It's hard to breathe in those [things].