7 Questions For The Following's Homicidal Hottie
BY

Diane Anderson-Minshall
March 25 2013 7:00 AM ET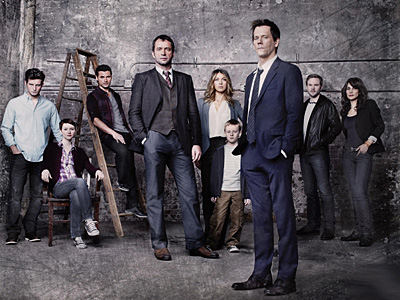 At left: The cast of The Following.
Paul is very jealous of Jacob's relationship with his girlfriend. What part of Paul can you identify with?
His passion.
What's been the strangest part of doing The Following?
It's been strange how I've become desensitized or light-hearted while conversing about death and violence at work — you know, just talking about the best ways to depict a scene. I'd imagine it must be an awkward scene to eavesdrop on.
You made your film debut as a 9-year-old in Like Water for Chocolate. That sounds pretty amazing. Did you know then you'd be an actor?
I actually didn't think objectively about it until five years ago. Then I guess it was all kind of an unfolding chain of events.
A lot of your film work is in Mexico. Did you always hope to move to L.A. and break into American film and TV or did it just happen?
I didn't always hope for that. I focused mainly on what my ideas were in regards to the world and expressions of those ideas. One thing led to the next. Now here we are.
What's the biggest difference between how sexuality is portrayed on Mexican TV versus American TV shows?
The culture basically. We're human beings at the end of the day, and the only things that change are languages, moral statutes, and settings.