Life With La Toya
BY

Jase Peeples
May 17 2013 6:00 AM ET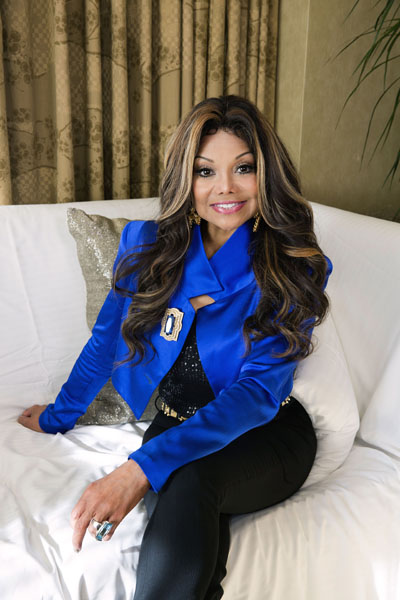 Growing up in the spotlight, you're aware of the pressures of the entertainment business. What advice have you shared with your niece and nephews now that they've begun perusing their own careers in the field?
I've told them if this is truly what they want then they should put their best foot forward, but be aware of the responsibilities that come with it. It's not as easy as you think. There's a lot that comes along that people don't realize. Even something as simple as the demand of the public, taking pictures and asking for autographs and them feeling like they own you. However, you have to remember they do in a sense because you're out there and you have to give back when they ask for those things.
And you've been adored by the LGBT community from the beginning of your career.
Yes, I realized it right after I put out my first record which was If You Feel the Funk. The record company came up to me and told me "98% percent of your following and fans are gay." I thought it was wonderful! I was so elated because I love everything about [gay culture.]
Speaking of gay culture, you've been a frequent guest judge on RuPaul's Drag Race. Do you remember the first time you ever saw a drag queen impersonate you? How did you react?
I think I was in Europe and it was very interesting. At first I remember thinking, "I sound like that?" "I talk like that?" But what's funny is the performance really was so close to mine. I thought it was amazing.
We got to hear a snippet of your new duet with RuPaul, "I Feel Like Dancing," on the finale of Drag Race earlier this month. The two of you have been trying to find the time to record a duet together for years. How does it feel to have it completed?
It's so great! I really love Ru. I have a lot of respect for him. But he likes it and I like it. So that's wonderful.
How did the two of you finally settle on this song?
That will unfold in the storyline of the show and the song will be released after that episode airs.
So we'll have to stay tuned to see how your musical kiki with Ru went down.
[Laughs] Yes, you will.
Does this mean a new album is in the works?
Well, I will say you will definitely hear at least one or two more new tracks for sure.
What is the most frequent assumption people incorrectly make about La Toya Jackson?
It's the same misconception people have about my whole family. They say we're strange. We're weird. We're different. But we're not. We're just like everybody else. It's funny, because that's one of the main reasons I wanted to do Life With La Toya. A lot of people think they know me and they don't. It feels like we always get this great big snowball of lies and it's hard to see my mother watching these things on television and saying "That's not true." So by doing this, I can show who I really am and if people want to judge me after that and tell me what they like and don't like, I can respect that now because judging a person you know nothing about is absolutely unfair and it's wrong. Finally, what you're seeing on Life With La Toya is exactly who I am and it feels great.
Watch as La Toya opens up about her abusive ex-husband in the below video clip. Life With La Toya airs Saturdays at 10:30 p.m. ET/PT on OWN: Oprah Winfrey Network.