Queen Latifah Tells Us About Her New Talk Show
BY

Diane Anderson-Minshall
September 17 2013 6:38 PM ET
UPDATED:
September 23 2013 5:21 PM ET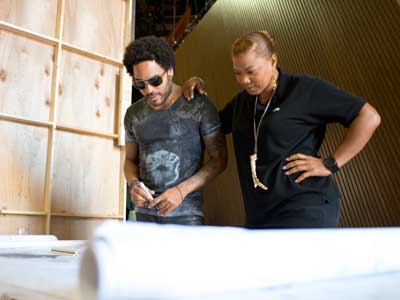 At left: With Lenny Kravitz (building the set of her new talk show)
Latifah thinks it's only the media that really cares about her private life. As for fans, she says, "I don't think people really focus on my private life."
She told USA Today, "I know what I'm comfortable with and what I'm not. It's what I feel is private to me and my family and my friends. It's what I share with the public. That's been something I decided a long time ago. It's not a new thing. Nobody is asking me. Only the media is asking that question. What makes sense for me to share makes sense. What I think is my private business will stay private."
Still, while Latifah may not be out, she is like a long list of Hollywood celebrities who are not quite out but also not quite in either. She's not pictured with men at events. She's not overcompensating with the media. She's moved beyond outright denials, even performing at Long Beach, Calif.'s LGBT Pride festival last year (where she said she'd "been waiting to do this for a long time" and was proud to be among "her people," though she did say that wasn't necessarily a coming-out).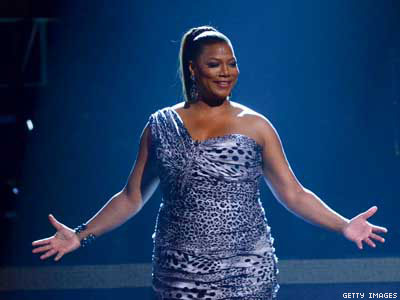 Nevertheless, there's no denying that Latifah, now 43, is a feminist force to be reckoned with in Hollywood. Earlier this year, Netflix signed an exclusive multiyear licensing deal with Flavor Unit, picking some of production company's films to stream online. Though she was robbed of an Oscar for 2003's Chicago, she's won 20 other awards and racked up 63 nominations. She's starred in dozens of films and TV shows. She runs an über-successful company. And, she hopes, she may soon dominate daytime TV. Except for the lack of self-disclosure, comparisons to Oprah Winfrey seem apt.
"Oprah is the only Oprah, and I don't think people compare us, but that's a great compliment," Latifah says.
Still, perhaps she's learned a bit from the TV icon. She says she's grown since her 1999 show.
"I'm ready to do a talk show now," she says. "I love singing, and I love acting and producing. In 1999, I hadn't done enough of that yet, I wasn't ready. I feel like I've done a ton of that now, and I'm ready for this. I'll always want to act and sing and produce, but I'm at a point where I really want to do a talk show."
The show has reunited her with Jada Pinkett Smith, her Set It Off costar, who is also executive producer of the new show. It's a partnership that gives Latifah extra grounding. "I love working with Jada," she says. "We've grown up together. We have similar taste and similar perspectives, so it's been amazing to collaborate with her."
In addition, her senior producing team reads like a total dream team: Todd Yasui, Jack Mori, Catherine McKenzie, Sierra Lindsey, David Harte, and showrunner Corin Nelson. Don't think those people were assembled before Latifah came on board; she had a hand in every decision made for the show.
"Of course I have a hand in it, it's my show! It impacts what I do, because we've put together such an amazing group to collaborate with, it makes it fun," she says.