Richard Jay-Alexander: A Guy and His Dolls
BY

Brandon Voss
July 30 2009 12:00 AM ET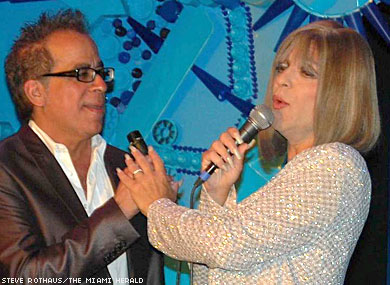 How would Barbra feel about you fraternizing and singing with famed Barbra drag impersonator Steven Brinberg?
Oh, she knows all about it. Donna Karan was having a birthday party this past year and Barbra couldn't make it from the West Coast, so I got an odd call from Marty Erlichman, her manager, saying, "Barbra wants you to hire a Barbra impersonator and go to the party to mingle around the crowd so people think it's her." So I called Barbra at home, and I asked, "What kind of assignment is this?" She said, "Richard, I can't make it, but I don't want to let Donna down." I said, "These Barbra drag queens look like 'Funny Girl Barbra,' or 'Clear Day Barbra.' Nobody looks like you, so they can't just go mingle." She said, "No, no, I want them to perform!" I said, "Oh, well, that's a different story." I told her about Steven Brinberg, who I've known forever. So she and Marty hired him, Barbra actually wrote dialogue for Steven, and Donna's people even got some of Barbra's clothes out of a warehouse. The party was at Sandy Gallin's apartment on the night of the Sarah Palin debates, and Steven sang a few songs as Barbra, including the funniest version of "Kids" from Bye Bye Birdie because of Palin's kids. He was hilarious. I told Barbra, "You were a big hit and you don't even have jet lag." [Laughs] So yes, she knows about him and she knows I've sung with him. But I sing with the real Barbra all the time. I'm telling you this and I know it's surreal.
Openly gay film directors Todd Holland and Don Roos recently advised gay actors to stay in the closet at Outfest. Do you see the closet as a necessary evil?
I don't see being gay killing anybody's career anymore. Look at Neil Patrick Harris. But I don't think it's about denial; I think it's more about finances and the people handling their careers. I guess if people want to be managed, they have to do what the managers say. But the young people today feel fearless. I taught a master class recently at UCLA, and there was this young kid who celebrated the fact that he was clearly gay with this hilarious song and monologue claiming he was gay, and I just thought, God, how fantastic is that? It's just a different time now. See, it's never enough at the time, but it keeps getting better and better. Young people today aren't worried like I was about being called a fag — when you hadn't even acted on your sexuality yet, and you were too young to even know what it was, but that's how you were perceived. Growing up, I would say, "I'm going to go work on Broadway." And the other kids would make fun of me and say, "Oh, Dickie's going to work on Broadway!" Sure, now you go home and they want to throw you a parade, but is there satisfaction in that? Not really, because the pain never goes away.
You made your Broadway debut as a performer in 1979's Zoot Suit. Were you out then?
I was never a hot pants-wearing, flag-waving kind of person, but you just found your posse, your tribe — people who were like you and places where it was safe to be you. I was in the original cast of Amadeus on Broadway with Ian McKellen, and he and I have remained friends over the years. We saw each other at a fund-raiser later, and he said, "Richard, it's very important that you come out." I was like, "What are you talking about? Anybody who knows me knows I'm gay. I don't need a big coming-out party." Then I did some interview in San Francisco that was really gay, so I showed him and asked, "Is this out enough for you?" In my opinion, he's the greatest actor in the English language. If young actors can't afford to go see him in something, I always buy them tickets.
You can't get much gayer than the music videos you've produced for party promoter and The Big Gay Sketch Show star Jonny McGovern. How did that relationship start?
Jonny McGovern is one of the prides of my life. I saw a slick little ad in Time Out New York about something he was doing at P.S. 122, so I went to see it on a rainy Sunday afternoon and I was enthralled by him. He's really such a clever, intelligent, talented guy. His "Gay Pimp" character is really like a superhero who saves gay kids and tells them not to be afraid of getting beat up in school. I met him after the show and said, "I want to work with you." So we put together a team and I financed the video for "Soccer Practice" in 2003, which got him bookings that took him as far as Tokyo. Then we shot a whole series of them. When Jonny was up for the TV series, executive-producer Rosie O'Donnell, who I'd worked with before, wrote me to ask, "What do you know about Jonny McGovern?" I said, "Hire him."
So you've helped out McGovern, and in addition to McKellen, you've spoken about how much your career has been impacted by power gays Cameron Mackintosh and Tommy Tune. Do you find that gays actively look out for one another in the industry?
I don't clock it because those are just the people that I know, and straight people have been just as kind to me. But, you know, it's also true that if you're out on Fire Island one weekend and Tommy's out there at his house, you do get the opportunity to talk. Work begets friendship begets work.