Op-ed: Why Gay Men Love The Theater
BY

Jim David
July 08 2012 1:12 PM ET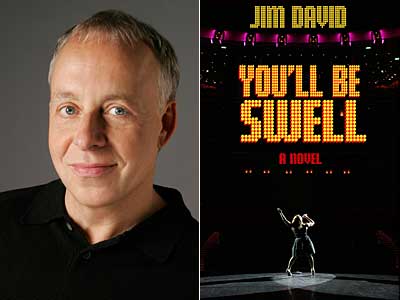 We also love musicals and musical divas – ask many straight guys who Patti LuPone or Audra McDonald are and you'll hear crickets. And we love loud, brassy women, the kind of girls with a big talent, a hilarious sense of humor and a quick tongue. The theater attracts many of those girls, and when I began writing my novel, You'll Be Swell, it quickly became about one of those women who are phenomenally talented, frequently overweight, and pal around with gay men. I had known plenty of them.
You'll Be Swell, the title of which comes, of course, from "Everything's Coming Up Roses,"chronicles the ups and downs of a great talent trying to make it as an actress, held back by both the perils of show business and her own self-esteem. Since I originally moved to New York to work in theater – when I got to New York, the theater said, "We don't see you as an actor, we see you as an usher" – the book became a fantasy of if I had made it as a musical comedy star with a couple of hot men vying for my affections.
I know the theatrical world well and wrote about my early days as a struggling performer through the eyes of Lucy, the main character. I had forgotten how hilarious it was to work in a Times Square steakhouse or perform singing telegrams dressed as a chicken.
The book became, partly, about my own fantasy career if I was doing Anything Goes instead of Comedy Central. I'm one of those gay men who really loves the theater, but if I can't work in it, at least I can dream. And so Lucy is a great talent who ultimately makes it, but not at all in the way she intended.
Jim David's first novel, You'll Be Swell, is available in paperback on Amazon.com, and on Ebook on Amazon Kindle, Barnes & Noble Nook, and the iTunes bookstore.