PHOTOS: Broadway Bares a Winter Burlesque
BY

Christopher Harrity
February 07 2013 5:00 AM ET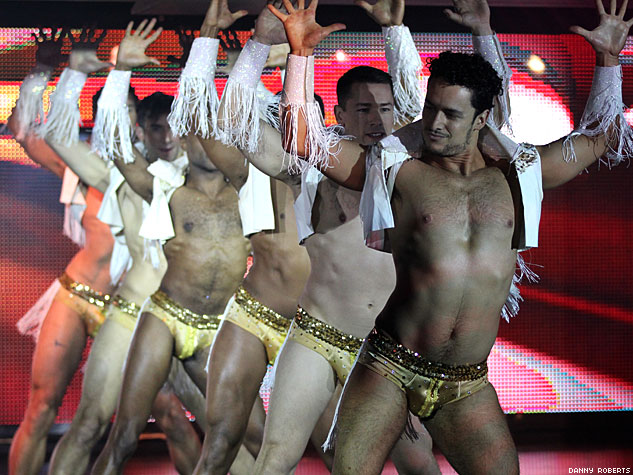 "Fringe Benefits": Sidney Erik Wright and cast
Broadway's Adam Fleming transformed into a modern-day Humpty Dumpty, the famous falling egg, and relied on a gaggle of squawking chicks to help him crack out of his shell – and down to a sexy thong – in a humorous, hip-hop striptease to Digital Underground's "The Humpty Dance."

As a high-powered banker, Matthew Steffens bumped-and-grinded his way down the runway, "paying" his fellow dancers to strip him down, losing his golden three-piece suit until he was left with nothing more than a cleverly concealed stimulus package.

Justin Smith sheepishly arrived as a hunky milkman delivering his goods to some randy farm hands in "A Big Man." Inspired by an infamous Broadway Bares V showstopper, this delivery turned into an all-hands-on-deck bath as the entire male ensemble washed down Smith's rippling abs with milk.