One Night With Janis Joplin: A Project From the Heart
BY

Trudy Ring
April 04 2013 6:00 AM ET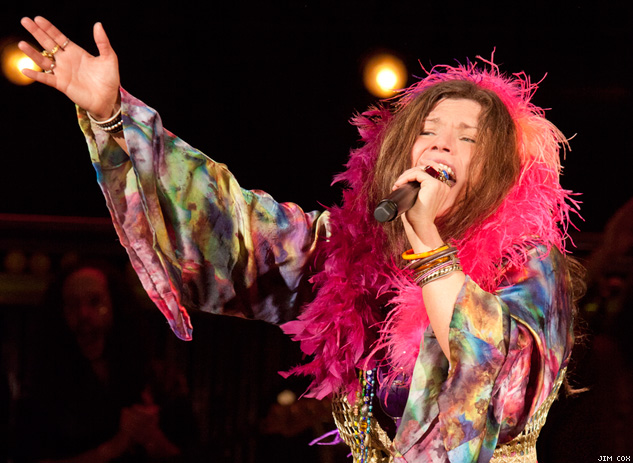 Mary Bridget Davies as Janis Joplin
Then one night he thought about the singers who inspired Joplin — blues and R&B artists such as Bessie Smith, Odetta, Etta James, Nina Simone, and Aretha Franklin. "I realized that Janis's influences were my influences," he says. "I thought, How great would it be if Janis got to sing duets with her influences?" The following morning he got up, made a pot of coffee, and wrote the show in the next 18 hours. It's undergone very few revisions since then, from its premiere in Portland, Ore., in 2011, through productions in Cleveland and Washington, D.C., last year, to the current staging in Pasadena.
In addition to Joplin, played by Mary Bridget Davies, and her band, the show has a character called the Blues Singer, played by Sabrina Elayne Carten. "I created the character of the Blues Singer as Janis's alter ego," Johnson says, so audiences can see where Joplin found her inspiration and where she took it, and also to recognize the contributions of these important African-American artists. Joplin, he notes, broke color barriers, frequently singing onstage with black performers.
The production is constructed as a concert by Joplin, and "it's up to the audience whether it's her last concert or a dream concert," Johnson says. While the singer is said to have had love affairs with both women and men, the show doesn't go into that aspect of her life, as she would not have discussed that onstage, he says. Nor does it deal with her drug use (she died of an accidental overdose in 1970, at age 27).
But Johnson, who is gay, sees Joplin as universally appealing. "People were drawn to her essence," he says. "She appealed to men and women as a true American original. … She made it OK for women to think as individuals, for people, straight or gay, simply to be who you are."
That was also his advice to Davies, who has been with the show since the Cleveland production, originally as understudy for the Joplin role. "I told her just be yourself," he says, not to try to imitate Joplin, as the role called for authenticity, not imitation. She brought plenty of authenticity, he says; upon seeing her perform, he and the rest of the show's creative team "felt like we were at Woodstock." Carten, who has been in the role of the Blues Singer since the Portland staging, is equally authentic, he adds: "I would describe them both as forces of nature."
In addition to beloved Joplin tunes such as "Piece of My Heart," "Mercedes Benz," "Me and Bobby McGee," "Ball and Chain," and "Summertime," the show features a song that was written for Joplin but that she never got to record, "I'm Gonna Rock My Way to Heaven." Jerry Ragovoy, who cowrote several other songs recorded by Joplin, such as "Cry Baby" and "Try (Just a Little Bit Harder)," and penned the Rolling Stones' "Time Is on My Side," wrote "I'm Gonna Rock My Way to Heaven" in collaboration with Jenny Dean, with input and notes from Joplin, but the singer died before she could record it. So it premiered in One Night With Janis Joplin, and Ragovoy got to see the song performed in the Portland production, shortly before his death, Johnson notes.
"I never wanted this to be a jukebox musical, because it's not," Johnson adds. "It's a rock and roll biographical event. … I look at the show as the journey of the spirit of Janis Joplin."
Johnson himself journeyed into a show business career because "I had no choice," he says. His parents were not in showbiz — his father, Paul, was an aircraft engineer, his mother, Selma, a nurse — but they loved it. They exposed their son to a wide range of music, and they even danced as members of the studio audience on The Lawrence Welk Show. Keely Smith came into his life because she had gone to high school with his mother, and who calls her "one of the finest human beings on our planet."