Seat Filler: The Advocate's Guide to the 2011-12 Broadway Season
BY

Brandon Voss
May 09 2012 9:37 AM ET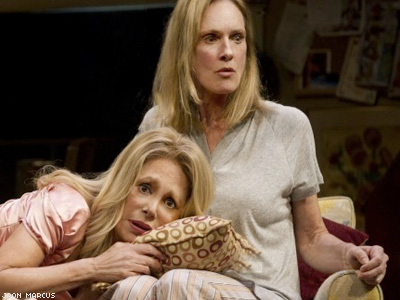 Relatively Speaking
Directed by John Turturro with a knack for nailing borscht-belt humor, three old-school, family-themed short plays include Ethan Coen's weak opener and a shticky marital farce by Woody Allen, but the jewel of the trio is Elaine May's "George Is Dead," in which a startlingly hilarious Marlo Thomas plays a wealthy, narcissistic woman-child who, after her husband's death, selfishly seeks solace at the home of her former nanny's daughter.
Brooks Atkinson Theatre, closed January 29.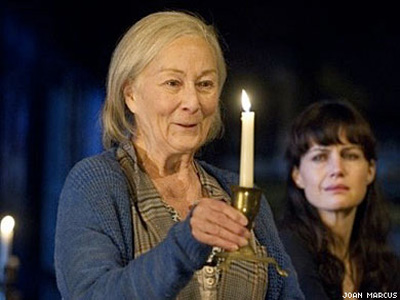 The Road to Mecca
Although Athol Fugard's 1987 drama can be exhaustingly slow and talky, LGBT audiences will relate to the incomparable Rosemary Harris as Miss Helen, an elderly South African artist whose neighbors are threatened by her eccentric outsider spirit and controversial sculpture garden. Carla Gugino and Jim Dale provide essential sparks as Helen's confidant and the conservative priest trying to move her into an old-age home.
American Airlines Theatre, closed March 4.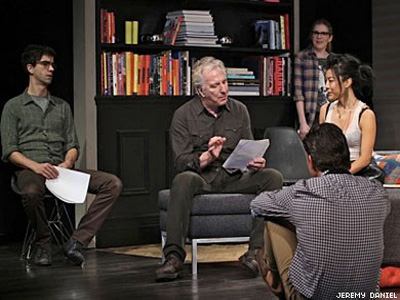 Seminar

Theresa Rebeck's smart and satisfying comedy stars the effortlessly commanding Alan Rickman — best known as Snape in the Harry Potter films — as a slimy author teaching a private seminar for young writers. Jerry O'Connell makes a solid Broadway debut as a pretentious prep, and American Horror Story's Lily Rabe steals scenes as a rich girl taken seriously only when she pretends her work's by "a cross-dressing Cubano gang member."
John Golden Theatre, closed May 6.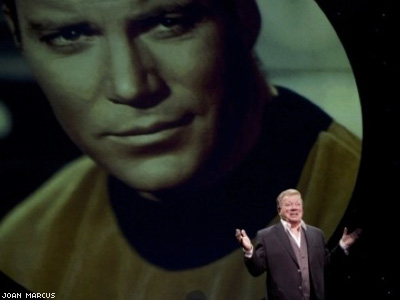 Shatner's World: We Just Live in It
One of those fleeting, harmless curiosities that lands on Broadway every few seasons, William Shatner's casual one-man show is a hammy yet personal monologue that often borders on self-parody. He talks career highlights like Boston Legal, Suzie Wong, and Star Trek — including his feud with George Takei — but a more somber recurring theme is his approaching death, which the octogenarian refers to as the real "final frontier."
Music Box Theatre, closed March 4.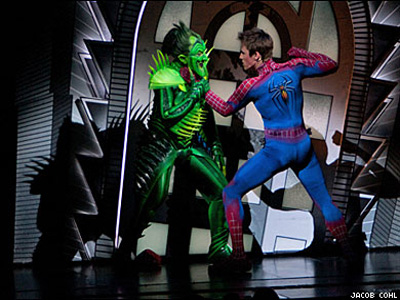 Spider-Man: Turn Off the Dark
How did Broadway's most troubled musical become coherent? What gave its villains, led by Patrick Page's evil-queeny Green Goblin, a purpose? After bad press and highly publicized injuries, the webbed wonder welcomed three heroic gay additions to the creative team as Julie Taymor left the production: Playwright Roberto Aguirre-Sacasa, director Philip William McKinley, and choreographer Chase Brock came to save the day!
Foxwoods Theatre, open-ended.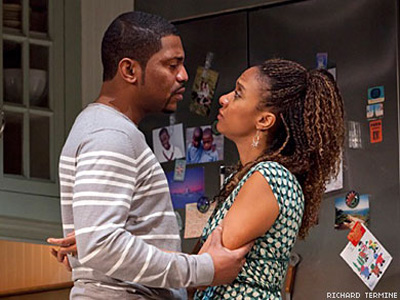 Stick Fly
Torchwood's Mekhi Phifer and Rent's Tracie Thoms are among the bright stars of Lydia R. Diamond's African-American family dramedy about two brothers who invite their girlfriends — one black, one white — to their Martha's Vineyard summer home. Kenny Leon directs this juicy tale of race, class, and sibling rivalry like a very special episode of The Cosby Show, and producer Alicia Keys fills the gaps with sparkling incidental music.
Cort Theatre, closed February 26.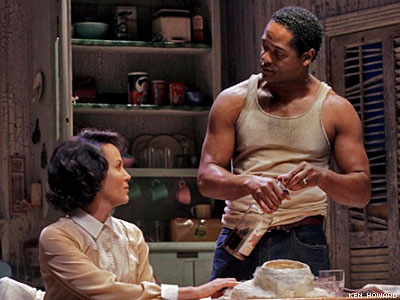 A Streetcar Named Desire
With only minor script adjustments, Emily Mann's marvelous multiracial revival turns up the sexual heat and shakes loose long-dormant humor in the Tennessee Williams classic, which stars a magnetic Blair Underwood as brutish Stanley. As his visiting sister-in-law Blanche DuBois, whose marriage to a homosexual ended in his suicide, Soul Food stunner Nicole Ari Parker is a steel magnolia, making her psychosis particularly potent.
Broadhurst Theatre, through August 19.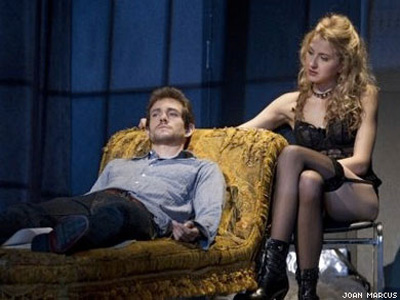 Venus in Fur
Out director Walter Bobbie helms David Ives's exhilarating two-hander, which stars Hugh Dancy as Thomas, a playwright auditioning actresses for his adaptation of Sacher-Masoch's 1870 erotic novel. Born Yesterday's vivacious Nina Arianda wows as Vanda, a mysterious spitfire who thrillingly takes charge as the dominatrix, but Thomas also ends up playing the female part as sexual tension rises and scripted fantasy blurs with reality.
Lyceum Theatre, through June 17.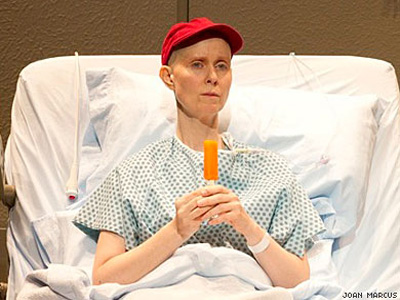 Wit
Sex and the City's Cynthia Nixon bravely commands the stage as a demanding poetry professor — conveniently well-versed in the mortality themes of John Donne's Holy Sonnets — diagnosed with late-stage ovarian cancer in Manhattan Theatre Club's surprisingly funny, tastefully heart-tugging revival of out playwright Margaret Edson's Pulitzer Prize–winning 1995 masterpiece, which is as brief and precious as life itself.
Samuel J. Friedman Theatre, closed March 17.
Visit TonyAwards.com for a complete list of this year's Tony nominations.