Seat Filler: NYC Theater Guide for May 2012
BY

Brandon Voss
May 22 2012 3:01 PM ET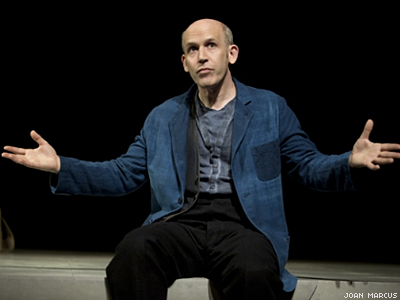 Title and Deed
Will Eno of Thom Pain (based on nothing) notoriety continues his cerebral yet lyrical exploration of life's mysteries with this Beckettian solo piece about the ideas of home, place, and tradition. Irish actor Conor Lovett is compelling as a nameless melancholy traveler seeking connection in a strange land as he ruminates on loneliness and mortality with meticulously crafted ramblings that stick with you like sand between your toes.
The Pershing Square Signature Center, through June 17.
Lonely, I'm Not
Out director Trip Cullman helms Paul Weitz's slight but seductive cinematic rom-com, which stars That 70s Show's Topher Grace as Porter, a young Wall Street burnout trying to pull his life together with Heather, a blind businesswoman played by Juno's Olivia Thirlby. Competing with superfluous fussiness like LED signage, Maureen Sebastian is a scene-stealer in three roles, which include Heather's quirky and clingy lesbian roommate.
Second Stage Theatre, through June 3.