Seat Filler: NYC Theater Guide for November 2012
BY

Brandon Voss
October 30 2012 9:00 AM ET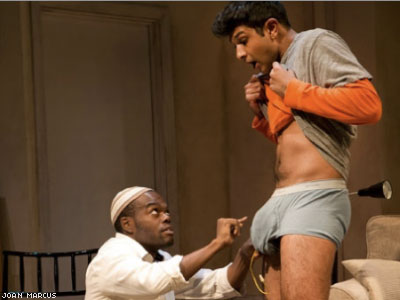 Modern Terrorism, or They Who Want to Kill Us and How We Learn to Love Them
John Kern's black comedy has balls — and not just the ones chafed by an underwear bomb in the opening scene. This provocative satire somehow makes the uneasy audience care about a bumbling trio of rogue terrorists. Pitch Perfect's Utkarsh Ambudkar anchors the production as Rahim, a sweet young Pakistani suicide bomber mixed up with a Somali who longs for an Islamic paradise where, among other hopes, his half-brother isn't gay.
Second Stage Theatre, through November 4.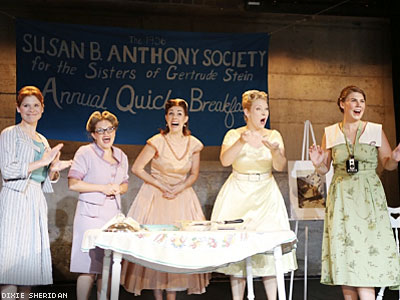 5 Lesbians Eating a Quiche
The ladies of the Susan B. Anthony Society for the Sisters of Gertrude Stein — that includes you, dear audience participants — won't tolerate meat in their quiche. If you can stomach double-entendres like that, you'll eat up Andrew Hobgood and Evan Linder's light and fluffy 1956-set feminist satire starring Caitlin Chuckta, Rachel Farmer, Megan Johns, Thea Lux, and Maari Suorsa as widows embracing their sexuality after a nuclear attack.
SoHo Playhouse, through November 20.