Seat Filler: Best NYC Theater of 2012
BY

Brandon Voss
December 19 2012 4:14 PM ET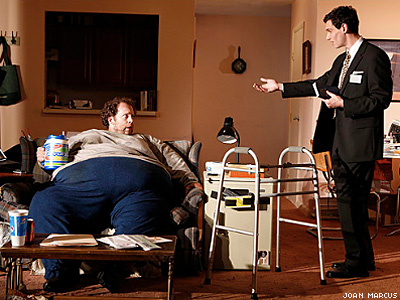 4. The Whale
Young Frankenstein's Shuler Hensley gave the most transformative, indelible performance of the year as a 600-pound gay man in out playwright Samuel D. Hunter's immensely moving drama, which couldn't be sunk by heavy-handed allusions to Moby-Dick and the biblical Jonah. Watching him struggle to tie up loose ends in his last days, we learn that Charlie's obesity stems from the loss of a conflicted Mormon boyfriend who starved himself to death.
Playwrights Horizons, closed.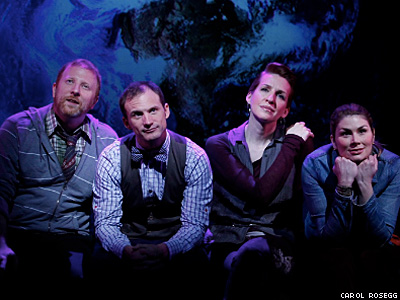 3. Now. Here. This.
The whole [title of show] gang — including gay director-choreographer Michael Beresse and gay cowriter-stars Hunter Bell and Jeff Bowen — reunited for this endearingly goofy and soul-baring musical. With the clever framing device of a visit to the Museum of Natural History, the witty quartet tackled the Mysteries of the Universe while sharing very personal anecdotes about everything from dazzle-camouflaging high school gayness to discovering Tootsie. Navel-gazing was never so delightful.
Vineyard Theatre, closed.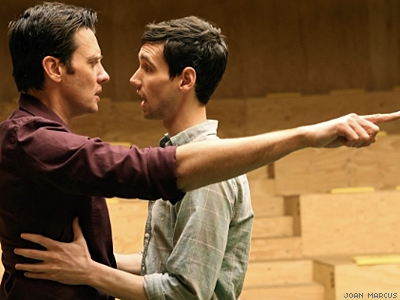 2. Cock
Cory Michael Smith's irresistably spineless John was torn between two competitive lovers, Jason Butler Harner and Amanda Quaid as M and F, in Mike Bartlett's Olivier Award-winning comedy, which raised but appropriately failed to answer questions about bisexuality: Isn't who more important than what? James Macdonald urgently staged the verbal combat in the round, which invested the rapt audience like an exhilaratingly tense sporting event.

The Duke, closed.