Seat Filler: Best NYC Theater of 2012
BY

Brandon Voss
December 19 2012 4:14 PM ET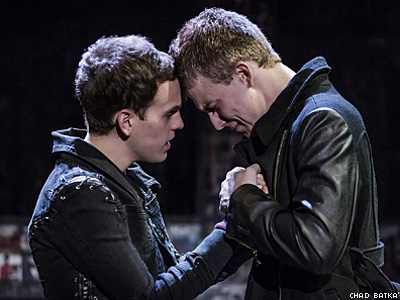 1. Bare
Set in a co-ed Catholic boarding school, Jon Hartmere and Damon Intrabartolo's 2000 coming-of-age pop-rock musical has been blessedly retooled for the "It Gets Better" era with the phenomenal Jason Hite and Taylor Trensch as star-crossed secret lovers. It's tempting to dismiss as dated and cliché, but Stafford Arima's earnest revival is also as electric and endearing as first love itself — thanks in part to scene-stealer Missi Pyle as a spirited nun and emo-choreography by SYTYCD fave Travis Wall.
New World Stages, open-ended.
HONORABLE MENTION: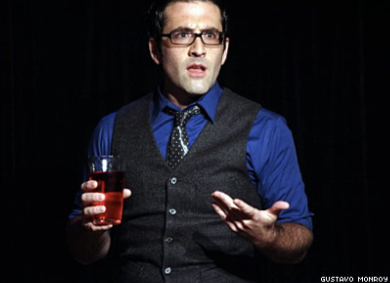 Patti Issues

Ben Rimalower is turning lemons and spilt T into a delicious Arnold Palmer with his insidery tribute to idol and colleague Patti LuPone. Marking the out NYC director's debut as playwright and performer, the captivating solo piece draws parallels between his connection to the diva and his strained relationship with his dad, who came out as gay when he was a child. It's not exactly I Am My Own Wife, but it's smart, poignant, and dishy as hell.
The Duplex, through February 28.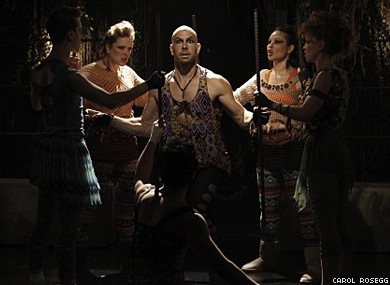 Triassic Parq

Jurassic Park got a silly yet surprisingly respectful transgender twist in this massively entertaining rock musical spoof, which was a 2010 FringeNYC favorite. Narrated by a white actor playing Morgan Freeman, a pack of naïve female dinosaurs — Lysistrata Jones alums Alex Wyse and Lindsay Nicole Chambers were comic standouts — went into a tailspin when a DNA mutation makes a T. rex (Claire Neumann) sprout male genitalia.
SoHo Playhouse, closed.
3C
The characters sure looked like the Three's Company gang in out playwright David Adjmi's terrifically twisted premiere, but it cleverly played like a Chekhovian drama about post-Vietnam anxiety with existential echoes of Sartre. Making a memorable nude entrance, As the World Turns alum Jake Silbermann starred as closeted new roomie Brad, who coped with a grotesquely homophobic landlord while crushing on his sleazy neighbor (Eddie Cahill).
Rattlestick Theater, closed.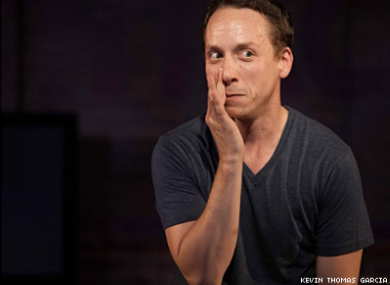 Methtacular!
Thankfully, writer-performer Steven Strafford lived to tell the grotesquely vaudevillian tale of his three years spent as a sex-crazed crystal meth addict in Chicago. Scraping the black humor from rock bottom with brutal honesty, Strafford elevated familiar druggie anecdotes with musical direction by The Rosie O'Donnell Show's John McDaniel, a love for '80s sitcoms, game show interludes, and sharp one-liners like "Tuesday plus meth equals Friday."

The Playroom Theater, closed.
The Fall to Earth
Helmed with a keen eye for familial detail by gay director Joe Brancato, out playwright Joel Drake Johnson's tense, heartrending drama starred Deborah Hedwall and Jolie Curtsinger as the mother and sister of a wayward gay man who has committed suicide after a series of bias crimes. "He would flirt with the wrong people," said the police officer in the small town where the estranged women have traveled to find some answers.
59E59 Theatres, closed.
Also see our top 10 LGBT-inclusive theater picks for 2009, 2010, and 2011.