Caught In the Courtney Act: Conversations with Australia's Favorite Drag Queen
BY

Daniel Garofali
April 24 2013 8:15 PM ET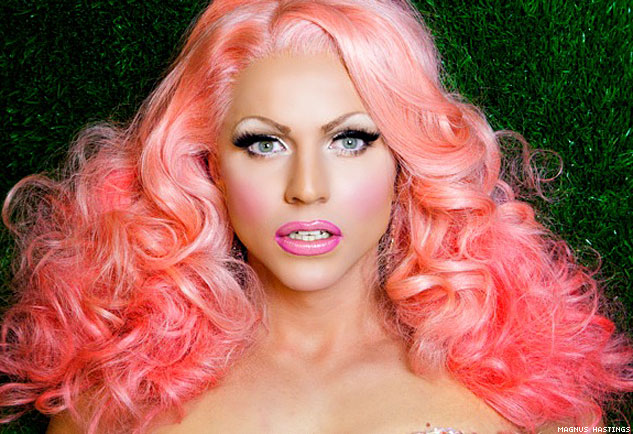 Early in 2008, I received a phone call from Jenek, asking if I wanted to work with him as Courtney's backup dancer around Australia. I was again confused. Who was Shane Jenek? This is the beginning of the fluidity in conversations between he and she — Courtney, Shane and myself. I agreed to the offer, and we flew around the country performing at various clubs.
From time to time, I would invite some of my heterosexual mates to local performances in Sydney, and every time, I laughed watching their faces as they struggled to define Courtney. This was inevitably followed by a million questions about anatomy. I always used Courtney's tagline to answer: She's the most beautiful man in the world.
Although a creation from Jenek's artistic devices, Courtney explores society's obsession with aesthetic beauty, while simultaneously questioning societal notions about sexuality and gender.
"Courtney wants to make the statement that superficial beauty is manufactured and that any woman, or in this case, any man can be beautiful with the right tools," says Jenek.
By tools, Jenek doesn't necessarily mean cosmetic surgery. It's more about the harmonious co-existence of nature's creation and the man-made fundamentals.
"I remember being in high school getting ready for our Senior Formal [Prom] and thinking that every girl in the class was pretty in her own unique way," explains Jenek. "Every girl had the potential for beauty; it is just about finding that potential and actualizing it."
Unbeknownst to Jenek, this early thought would open him up to a journey where he's now become the face of Sheer Cover by Guthy Renker, selling makeup on morning television in Australia. It was the first time in the world a bubbly, vivacious drag queen was selling tools promising beauty and happiness to middle-aged women on television screens.
"I'm no Joan of Arc," quips Courtney, "but it's pretty revolutionary having a gender illusionist selling the illusion of beauty to females."