Op-ed: What It's Like Being Trans In Military Academies
BY Brynn Tannehill
December 16 2013 9:07 PM ET
UPDATED:

December 18 2013 11:57 PM ET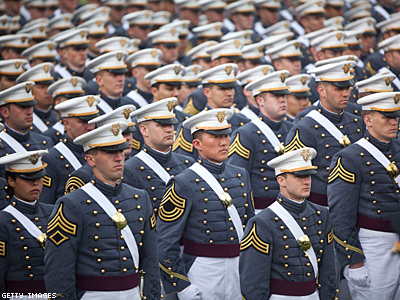 At left: Members of the graduating class of the United States Military Academy at West Point stand during graduation ceremonies May 22, 2010, in West Point, N.Y.
Kyle, a transgender man who graduated this year from the U.S. Military Academy at West Point, writes:
There are two types of hiding — the kind that requires you to lurk in the dark spaces of the day, behind shadowy places, and from your own memory; and there is hiding in plain sight.

The latter is a sort of hiding out loud. It's liberating and at the same time denigrating. That is what is required of you if you are a proud and well-adjusted transgender person serving in the military. You can be you, so long as no one actually sees you — the real you — for who you are.

As a transgender [female to male] cadet at USMA, my experience was uniquely wonderful and simultaneously awful. I was never hazed or even disrespected (to my face). No one ever bothered me — past freshman year, where being bothered is standard. I was always treated fairly. The ideals of excellence and meritocracy were promoted and reinforced over and over again as I was rewarded with several amazing opportunities — even a cadet command position my senior year. I could be the best me as long as I wasn't the real me or honest about who the real me was. That was a funny thing at an institution that prides itself on excellence and honesty.

The more I achieved and was noticed, the more I was forced to endure the daily indignity of being silent about who I am, even with people I knew and who knew. I began transitioning while a still a cadet, so everyone noticed changes. Some classmates, and even instructors, who I viewed as mentors told me that they understood, but that they could and would not recognize who I was — "for my safety," of course.

After I sidestepped all the fear and used all the courage I had to come out to them, they continued to misgender me, "for me." There's a different kind of indignity in being disallowed your identity. To be denied your identity means to be denied both the joy and pain of your living experience. That kind of denial transcends identity. It becomes a disavowal of your humanity.

When DADT was repealed for LGB soldiers, it was a feeling [among enlisted trans people] that, I would guess, is akin to never being picked for a team or being publicly bullied. Those are the instances that come to mind when I try to think of the kind of heartbreak that is accompanied by public humiliation. That's the worst kind of heartbreak. You endure the gossip while being precluded from addressing it. You endure the stares while never actually being seen. You endure the daily reminder that no matter how good you are, you will never be good enough.

And that is a painful thing — for the full spectrum of your identity, the full weight of your humanity, to never be recognized; to be proud of who you are and have to live out loud in the darkness of other people's shame. I rebelled as often as I could, but you can only do so much living in the shadows of who you are.