The Kiss: Two Brazilian Women Arrested and Beaten
BY

Trevor Martin
October 28 2013 5:18 AM ET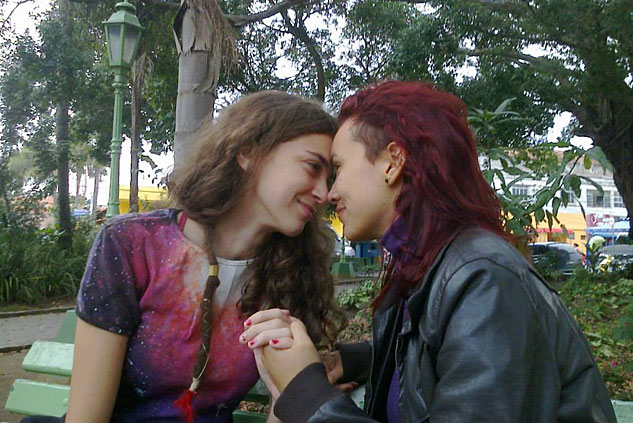 See more photos of Yunka and Joana at our sister site, SheWired.
What happened when your placards were taken away from you?
We had the idea of doing the kiss when we saw Feliciano strut on stage giving the hand sign in the shape of a heart — a sign of love — which is so ironic looking back, isn't it? The idea for our kiss was completely in the moment and yes, of course, it was in the spirit of protest against his abuse of his human rights position in government: it was a peaceful protest against the homophobia and racism that he constantly preaches. Our placards had been confiscated, and we felt we were left with nothing, so we spontaneously decided to engage in the gay kiss.
You were caught up in the moment in a crowd of 70,000 evangelicals and in front of a powerful antigay politician hosting the event. How did you feel?
I was scared but also excited. It was a bit of a blur. Joana and I scrambled onto the shoulders of our two friends and we closed our eyes and kissed! This was to be the most dangerous, controversial and exciting kiss of my whole life. I find it hard to remember exactly how I felt when we were up there on our friends' shoulders — visible to Pastor Marco Feliciano and the huge crowd. I felt a mix of fear and adrenaline all wrapped up in love and pride. I was doing something so controversial and risky as a protest in order to fight for my rights and the rights of others. Yet on the other hand it was just a simple kiss — a symbol of love and peace....
Feliciano berated and insulted us using his microphone, and the spotlights and cameras were pointed at us. He demanded we be handcuffed immediately and taken away. After the kiss, about 20 guards appeared and they wanted to escort us out of the venue, and I became indignant because I felt I had done nothing wrong. I was confident they could do nothing to us. Nevertheless I quickly became quiet and listened to what the guards were saying — the mood was changing and things felt different. The crowd was becoming unsettled and violent and the guards were nervous we might even be lynched. We were told we should leave for our own safety — to save ourselves from possible harm. My friends persuaded me that we should all leave.
Did you try to leave calmly and peacefully?
Yes. We were upset and felt we had been humiliated and silenced by Feliciano's public insults and threats, and we agreed to leave peacefully. But all of a sudden, more guards appeared and began to push and shove us until we were forced away from the crowd and under the stage behind some black cloth where no one could see us. We were suddenly being beaten violently by male guards. I was in such a state of shock. All I could do was scream as loud as I possibly could. We were smacked in the face and punched repeatedly in the ribs and thrown to the ground. We were roughed up badly. They jeered at us and called us horrible names. I felt like we were back in the days of a military dictatorship. I never thought we would be assaulted — brutally beaten up and handcuffed for kissing.
What else happened?
I saw the Captain of the Guard slapping Joana across the face. There was such hatred and venom in his face and it looked like he was enjoying it. Joana is tall and slender and it was so horrible to see this man hit her like this — she did not deserve this treatment. One of the worst feelings of my life was witnessing this brutish treatment of my dear friend for whom I have so much affection — I felt powerless and immobilized, unable to do anything to help her as the guards had hold of me and had handcuffed me. I could not do anything except shout at them to let her be and to stop hurting her. It was terrible. I felt helpless.
How badly were you hurt in this attack?
In the days afterwards, I could hardly touch my ribs I was in so much pain, and my arms and shoulders ached for a long time afterward, too.
You and Joana were handcuffed and taken to the entrance where you were handed over to police, who put you in a car and took you to the police station and put you in a cell. What happened during this time?
The police who finally met us at the entrance and took us to the police station were not violent toward us, and they had no idea what had happened under the stage at the rally. When we told them in the police car that we were arrested and beaten up because of a kiss, even they seemed very surprised. Luckily, our friends who attended the concert and rally with us turned up at the police station. They were very worried, so one of my friends called a lawyer, Daniel Galani, who very quickly came to the station to assist us.
Has your lawyer filed charges against Feliciano?
I do not know what the final outcome will be, but my lawyer's opinion is that we have a case against Congressman Feliciano. It was a peaceful protest in the symbolic form of a simple kiss. We should not have been physically assaulted and handcuffed and carted away to jail. We — and many others — believe Marco Feliciano needs to be relieved of his position as congressman and head of Human Rights and Minorities in Brazil. It is completely absurd that he holds this position given his antigay, racist and sexist beliefs. His extreme religious beliefs affect his judgement and are in conflict with his duties in government.
***
Trevor Martin was born in the United Kingdom. He obtained a BA in performance arts from Middlesex University, London, and spent a year studying psychology at Leicester University. He has appeared in the original West End London productions of Evita and the Tommy Tune musical Grand Hotel. He also played the Genie of the Lamp in Aladdin at the Opera House Manchester. He is now a writer and lives in the spectacular city of San Francisco. You can find more of Trevor's work at TrevorMartinWriter.com.