Marriage Equality
Read the latest news about marriage equality and the fight for gays and lesbians to obtain the right to marry. See the most recent updates on this international, national, regional, and state-by-state issue, which has been hotly contested by conservatives and far-right religious organizations. Learn about the straight allies who have been advocating for same-sex marriage in the spheres of society, entertainment, and politics, as well as the various opponents of marriage equality who seek to impede the progress of the LGBT rights movement.
PHOTOS: New Zealand's First Married Same-Sex Couples
BY Advocate.com Editors
August 19 2013 10:50 AM ET
Gay and lesbian couples in New Zealand began marrying today, as the nation's marriage equality law took effect at 8 a.m. The law was sponsored by lesbian lawmaker Louisa Wall, and received final parliamentary approval by a vote of 77 to 44 in April. New Zealand now becomes the 14th nation worldwide to embrace marriage equality.
At least 31 couples legally tied the knot in the first half of the day, reports the Washington Blade. The first to marry were Natasha Vitali and Melissa Ray, who wed in an Auckland church just before 9 a.m. local time (5 p.m. Eastern time Sunday in the U.S.). The couple won the honor of being the first to wed, in an all-expenses-paid event sponsored by a local radio station, notes the Blade.
Following close on their heels were Lynley Bendall and Ally Wanikau, who were married on an Air New Zealand flight from Queenstown to Auckland Monday. Friends, family — including the couple's three children — and out actor Jesse Tyler Ferguson, along with his new husband, Justin Mikita, were also on board to celebrate the first same-sex marriage in the Kiwi skies. Find a firsthand account from an Advocate's editor on board that historic flight here.
And click through the photos below to see shots from several of the happy unions that took place in the newly equal New Zealand.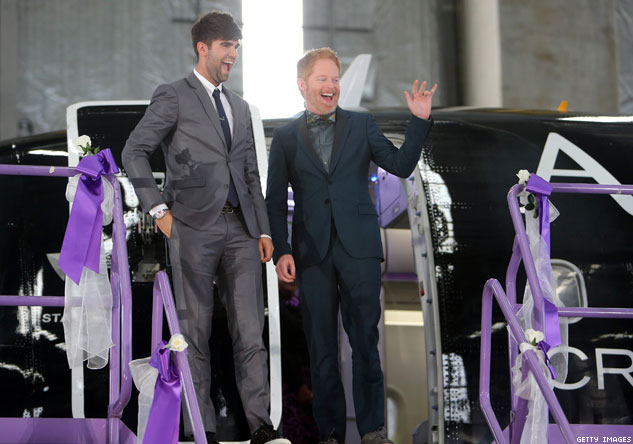 American actor Jesse Tyler Ferguson (Modern Family, right), who recently married his long-term partner, Justin Mikita, arrive in Auckland Monday, after attending the wedding of Lynley Bendall and Ally Wanikau (not pictured), who made history celebrating the legalization of same-sex marriage in New Zealand by saying "I do" in the skies on a flight from Queenstown to Auckland.