Visible Bodies: Transgender Narratives Retold
BY

Advocate.com Editors
August 05 2013 6:00 AM ET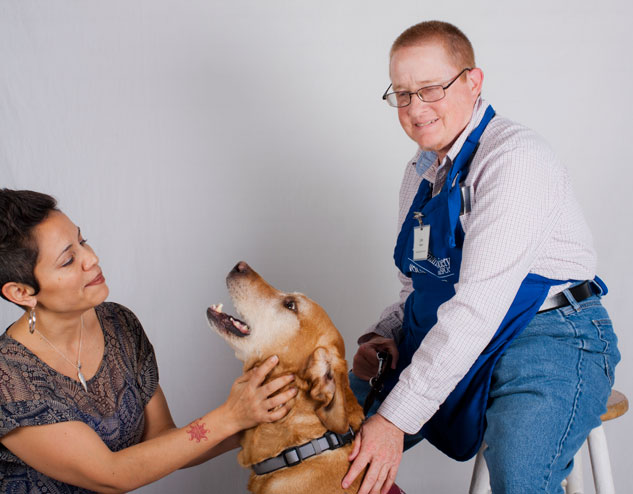 Lyn
I am a 62-year-old trans male who also happens to blind. I am pictured with my seeing eye dog, Landon, who is a certified therapy dog. My photo shows us doing something that we both love: bringing joy to disabled and elderly people through pet-assisted therapy with the San Diego Humane Society.
Even as a child, I knew something was amiss with my gender. As early as 1960, I remember feeling male on the inside. When I played games with friends and siblings, I automatically took on the male role. For example, I was the father when we played house. My family gave me some opportunities to express my maleness, but there were limits; I wasn't allowed the same crew cut as my brother, for instance. For my part, I tried to act like a girl, but it just never felt right. I thought I was weird, and my family knew being feminine didn't work for me, but none of us had words to describe who I really was.
As an adult, I found lesbianism, a common route for many trans guys, but never fit in. Eventually, I discovered that I could transition to male. I am now early transition, pre-op and taking hormones. I am enjoying the journey, though it began rather late in life.
I have had an interesting, though at times difficult life. I have faced discrimination both within LGBT community and in society at large. In my situation, I have no way to know what I was being discriminated against for: my blindness, my gender identity or both. Nonetheless, I continue to enjoy life to the fullest. To everyone, I say be yourself no matter what. We are all created as unique human beings, a fact worth celebrating.

Lyn Edward Gwizdak, age 62
Assigned Sex: female
Gender Identity: trans male
Pronouns: he/him/his