The A-List Interview: Joel McHale
BY

Brandon Voss
April 18 2013 4:01 AM ET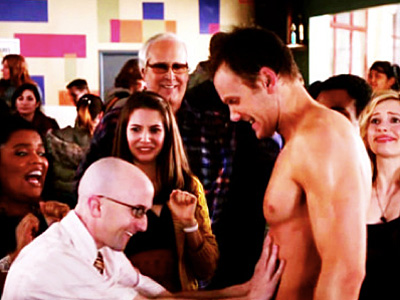 The dean constantly flirts with your character. Do guys ever hit on you?
Much like in Say Anything, guys usually stand outside my house with a boombox over their head blasting the Indigo Girls. Actually, guys sometimes will tweet me, "I'm in L.A. Staying at such-and-such hotel. What do you think?" Of course, it all depends on the quality of the hotel. Back when I had just moved to L.A., before I was on any show, I was meeting a friend at a bar connected to this restaurant we went to. When I got there, I was the only one in the bar. While I was messing with my phone, I didn't notice the whole bar fill up with men. Guys kept coming up, asking, "What's going on, man?" I figured they'd seen the commercials I was in. Then I realized that these men were coming on to me because I was alone in a gay bar.

What's the best way for a straight man to handle that situation?
Just a very quick, courteous blowjob.

You once told The Advocate that some people believe you are gay because you dress so well.
Oh, I still see that on Twitter every day. It's flattering. I always find it really weird when guys flip out over someone thinking they might be gay. If a guy gets offended by that, there's something's wrong with him. I take it as a compliment.

Do you have a dude crush?
Ooh, boy, I have so many. Josh Gad. Brian Williams. Patrick Stewart. Nathan Fillion. Kobe Bryant. Chaz Bono.

OK, now you're just saying names.
Maybe. I'm not picky.