The A-List Interview: Joel McHale
BY

Brandon Voss
April 18 2013 4:01 AM ET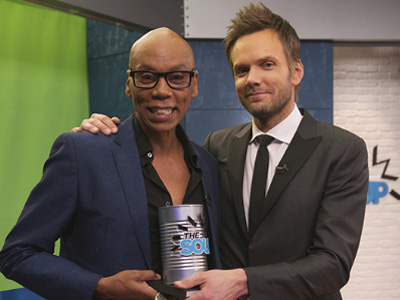 You have a recurring reality show clip segment on The Soup called "Gay Shows." How do you make a gay joke funny without being offensive?
You have to be intelligent, you have to laugh with, and you have to meet the clip where it is. I know that sounds weird and vague, but it's a case-by-case situation. We're mostly commenting on what's happening on those shows — like RuPaul sticking cake pops into glory holes on RuPaul's Drag Race — and not on someone's orientation.

What stands out as your favorite "Gay Shows" moment?
Well, I really do love RuPaul. RuPaul is a genius, and his show is always engaging. He's come on The Soup before and is game for almost anything. But who's the gay man who got a lot of fame out of being Rachel's assistant on The Rachel Zoe Project?

Brad Goreski.
Yeah. This wasn't even really a gay moment, but what comes to mind is the clip where Rachel's like, "Brad. I have come undone. I am. Undone." And then you see Brad in the next room, saying, "Uh, Rachel's undone." And they basically just keep repeating themselves. I don't know why, but for some reason I just thought that was a really, really funny clip.

You take your shirt off quite a bit on Community. Do you ever feel exploited?
No, I'll do anything for ratings. I mean, was Michael Fassbender exploited when he did Shame? Because it's exactly the same thing.

Screen caps of your nude scene from the DVD extras of Ted were all over the gay blogs recently.
Wow, maybe I should start posting photos of myself naked with "Community" written across my lower stomach. I was actually aware of that because of the number of tweets I got about it. As long as the comments about my body are positive, I don't mind.

So why did you use a butt double for your nude scene in What's Your Number?
Because they didn't give me any advance notice! All of a sudden on set they were like, "Hey, you wanna do this?" No. You have to pay for this ass, my friend.