Captivating Kate
BY

Sunnivie Brydum
April 23 2013 6:00 AM ET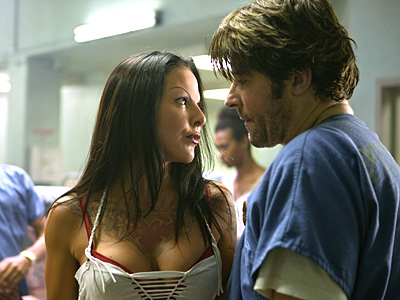 The film is not for the faint of heart, nor those easily upset by portrayals of sexual violence. While the 88-minute film does provide some sense of closure and vengeance, it depicts several instances of rape, though the scenes are not physically graphic. While director Stewart contends that, ultimately, the film is a "feel-good movie," Del Castillo admits that it can be tough to watch.
"It's a harsh film," says Del Castillo. "It's not an easy movie."
K-11 is the directorial debut for Stewart, who's worked as a script supervisor on more than 80 films. After three separate attempts at financing the film failed, the director says she ultimately "didn't pay any attention whatsoever to politics."
Stewart acknowledges the conflict inherent in hiring nontrans actresses to play Mousey and the two other trans women in the ward. Ultimately, those roles went to nontrans actresses Portia Doubleday as Butterfly and Tara Buck as Crystal.
"I needed actresses," says Stewart. "I needed the real deal. I couldn't go, 'Just because you're transgender, [you get the role].' That would be like doing a hospital film and hiring a real surgeon. I needed an actor. And there just aren't very many [transgender performers] that I found that are actors of that caliber to play these roles."
Del Castillo says she was nervous and excited about the role, calling it "a once-in-a-lifetime opportunity." Mousey is dramatic, but Del Castillo says she tried to avoid turning her into a caricature.
"There was this very fine line to not cross and [become] a cartoon," says Del Castillo. "I don't want to insult anybody. It's very delicate."
In researching the role, Del Castillo sought training from actress Calpernia Addams and her business partner, filmmaker Andrea James, two trans women who advise Hollywood on transgender portrayals through their production company, Deep Stealth. (Addams and James also counseled Felicity Huffman when she portrayed a transgender woman in Transamerica.)
And though Stewart didn't cast any transgender actors in roles portraying trans characters, she says there are trans-identified people in her film.
"A lot of them, actually," says Stewart. "And they did a great job, and they were wonderful.… I was going for depth of character, and realism, and believability."
Read the Interview: The Advocate Talks to Kate Del Castillo.