The A-List Interview: Katee Sackhoff
BY

Brandon Voss
May 27 2013 4:00 AM ET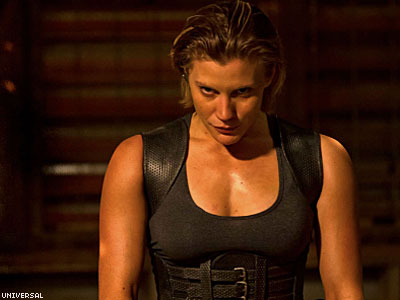 At left: Sackhoff in Riddick
Your character in Riddick looks like she might be your toughest one yet.
Her name is Dahl, and she's a mercenary. She's the only woman on this ship with guys for months, years at a time. She's straight, but she lets people believe that she's gay because it protects her in this environment, emotionally and physically. I understand where she's coming from. She's definitely the hardest character I've ever played. I love to play emotion and give characters the emotional layers that confuse people in real life, but I didn't need to do that with Dahl. She's just tough. I actually wanted to make her tougher and shave my head, but the director wouldn't let me.
Did you buff up for the role?
I was the tightest and strongest I've ever been. I was in Montreal with 10 guys for two months while we were shooting, so we were working out constantly. Whenever we had 15 minutes, we'd be lifting weights. I'd go to the gym with my costar Matt Nable, and I was doing massive sprints, curling 35s, and my arms were humongous. At one point, Jesse Palmer, who was an NFL player and one of the bachelors on The Bachelor, came up and asked Matt, "Is she a professional athlete?" Matt was like, "No, she's just an actress."

Because of your tomboyish characters, are you ever mistaken for a lesbian?
Constantly. So much at one point that there was a moment in my life when I was like, "Do they know something I don't? They obviously have better gaydar than I do." Because you never know. I could kiss a girl and like it.

You starred as a bisexual psycho in the dark comedy Sexy Evil Genius, which is now on DVD, and got to kiss Michelle Trachtenberg, who played your ex-girlfriend.
That was first time I had kissed a girl, and it was terrifying. Michelle kept grabbing my boobs, teasing, "We get to make out!" I thought I might feel something — that maybe it would shock me and I'd finally understand it completely. But as I kissed her, I realized that kissing a girl onscreen is no different than kissing a guy. It was fun, and she's a fantastic kisser, but you'd have the same emotion kissing a bouncy ball.