The A-List Interview: Katee Sackhoff
BY

Brandon Voss
May 27 2013 4:00 AM ET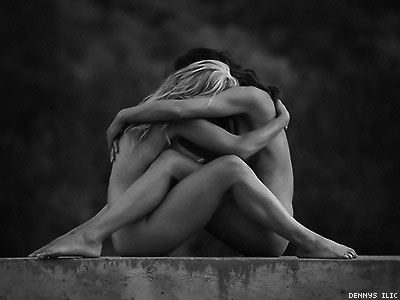 At left: Sackhoff and Tricia Helfer of Acting Outlaws
I'm sure a lot of lesbian fans would also love to see you and Tricia Helfer, your best friend and business partner, ride your motorcycles into the sunset together.
Well, we actually did a calendar together for our Acting Outlaws company, and there's one photo of us that didn't make the calendar. It's a shot we did at the end of the night, and the photographer said, "I really want you guys entwined. Naked." We were like, "Oh, my God, really? OK, let's do this!" So we're sitting on railroad tracks, hugging each other, completely nude, laughing hysterically because her breast was almost in my mouth. We were both trying not to look down because we were almost bumping vajooshels. It's a stunning photo that we chose to sell on its own, and we've had many lesbian fans tell us they'd bought it and hung it in their house.
Your motorcycle-riding duo has been involved in various charity events, but proceeds from that 2013 Acting Outlaws calendar benefited amFAR, the Foundation for AIDS Research. How did you get involved with them?
We met Chris Salgardo, the president of Kiehl's, a few years ago on one of their LifeRide for amFAR motorcycle rides to raise awareness about HIV/AIDS. Tricia and I just love the entire Kiehl's family, so we started doing more things with them. Then we had the weighty responsibility but beautiful opportunity to stand up at the International AIDS Conference last year in Washington, D.C., and read some of the names of people who have passed on from the disease. We were both so overcome with emotion that we became huge advocates of amFAR. We wanted to continue to do whatever we could, with Kiehl's and on our own, to help the fight against AIDS.

Growing up in Oregon, what was your first exposure to gay people?
One of my best friends in high school was gay. We did musical theater together. Mark and I hung out constantly. Growing up with him in a small town — an intense pressure cooker of a place for any child, but especially for someone who's LGBT — I had an early awareness of his challenges. He was such a beautiful person. The fact that anyone could not like him because of who he is was so beyond anything that I could comprehend, because I loved him so much. It formed my opinion from a very young age about the importance of accepting people for everything that they are.