Right Time, Right Place
BY

Aaron Hicklin
June 28 2013 4:00 AM ET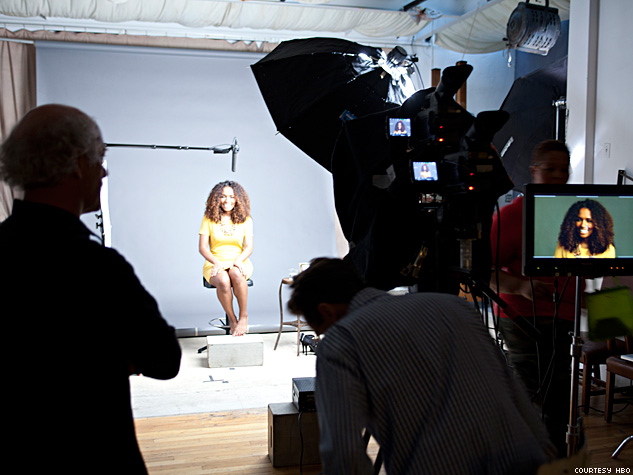 Above: Timothy Greenfield-Sanders filming the transgender editor, Janet Mock, for his documentary, The Out List, which premiered on HBO in June.
In 2003, inspired by the movie Boogie Nights, Greenfield-Sanders made another leap with Thinking XXX, a portrait series of 30 porn stars. He hadn't planned on shooting them nude, but when his first subject — gay porn star Phil Notaro, a.k.a. Kyle Bradford, a.k.a. Chad Slater — made the suggestion, he realized that was exactly how it had to be: each star dressed and undressed, the photos juxtaposed. Since then, of course, porn has become something of a bore — we've all seen behind the curtain, we all know how it works — but when Greenfield-Sanders shot XXX, porn was still intriguing enough for such simple, frank treatment to feel revelatory. A book, co-authored by Gore Vidal, sold tens of thousands of copies. There was a movie for HBO. Talk about the mainstreaming of porn!

For Greenfield-Sanders, XXX also marked the end of his low-key profile, when he was known primarily among a coterie of artists and art fans. At the same time, he recognized that photography was being devalued; the Internet and digital cameras were giving rise to a deluge of images, and it had become increasingly difficult for a picture to stand out from the crowd. The portrait sittings have continued, but in the last decade, Greenfield-Sanders has turned his attention to making documentaries, including The Black List (volumes 1-3), The Latino List, and now The Out List. Each focuses on a minority community in America, in a simple talking-heads style that reflects his approach to photography. And each has materialized at a moment of great serendipity. The Black List — interviews with black Americans — premiered at the Sundance Film Festival in January 2008, just as Barack Obama was winning his first primary. Work began on The Latino List as Sonya Sotomayor was being nominated to the Supreme Court. As for The Out List, there could hardly be a more auspicious time for a documentary in which 16 prominent members of the LGBT community make the case for equality.