The A-List Interview: Elizabeth Banks
BY

Brandon Voss
July 11 2013 4:00 AM ET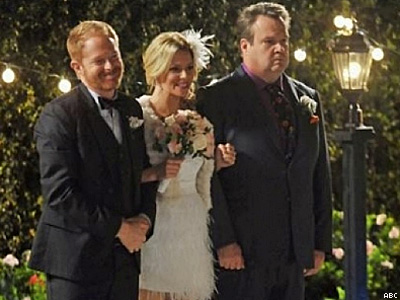 Banks with Jesse Tyler Ferguson and Eric Stonestreet in Modern Family.
You've been a strong supporter of marriage equality on Twitter. You also tweeted support of Jason Collins and shared Macklemore's "Same Love" video. Why is it important to let people know where you stand on gay issues?
It's a human rights issue. It's shameful that we don't have equal rights for our gay citizens in America. We should all be vocal about what we believe.
Are you hoping to change minds?
Honestly, I am hoping to influence young people, and Twitter's a great way to encourage them to lend their voice to the conversation. Any time you can show young people that you support gay friends and that there are gay people in the world who are lovely, happy, singing, and in love, it opens their minds. I grew up in a very small town, but it happened to be in western Massachusetts, where there were a lot of gay people. I remember my aunt going to a gay wedding when I was 11, and I thought it was the coolest thing. I have a gay cousin who came out to my parents before he came out to his own. So I benefited from having a very open, supportive family, and I want to pass that on.
Have you received any backlash from conservative followers?
Haters gonna hate, but what can you do? One of the graces I've gotten with age is that I no longer need everyone to like me. You can't please everyone.
You've starred in a number of notable LGBT-inclusive films, such as Wet Hot American Summer, Heights, and Our Idiot Brother. Are you conscious of that consistent queer appeal?
For sure, looking back, I see that. And I've also been lucky to work with a lot of wonderful gay artists — writers, directors, actors. Even a lot of my episodes of 30 Rock were either directed or written by gay men. That appeal in my career has been complementary of my own life.
One of your earliest gigs was a 2001 episode of Law & Order: SVU, in which your character was married to a gay-for-pay porn star.
Yeah, played by Mark-Paul Gosselaar. I loved that character. He just wanted to go to Vegas and be in a gangbang so he could get on The Howard Stern Show.
In Heights you played a woman who discovers that her fiancé, played by James Marsden, is gay. Did she basically ignore all the clues because he looked like James Marsden?
They were also together for a really long time, since they were really young, so yeah, there was a lot of deep denial there.
Have you ever unwittingly dated a gay man?
I haven't. Unfortunately, my entire adult life I've been with my now-husband, who I'm 99% sure is not gay.