What's Wrong With Exxon?
BY

Antonia Juhasz
September 03 2013 6:00 AM ET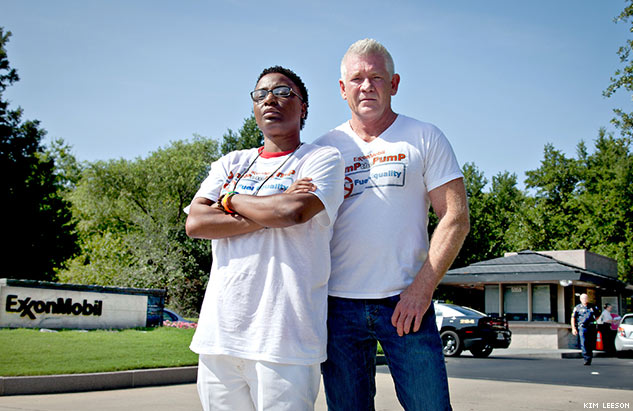 Above: GetEqual activists Cd Kirven and Mark Reed-Walkup outside the entrance to ExxonMobil's world headquarters in Irving, TX.
Exxon is under investigation by the state of Illinois for employment discrimination based on sexual orientation. A second case of such discrimination was found in Texas this year.

"It was a slap in the face," says Tom Allen of the reversal of Mobil's LGBT policies. "We worked so hard to get them, and this took us back 30 years." Allen went to work at Mobil when he was 23 years old and stayed with the company through the Exxon merger until his retirement in 2010, after 35 years of service. He participated in Mobil's historic implementation of LGBT nondiscrimination policies and partner benefits.

"I find myself embarrassed today that I have to defend where I work," Allen says. "And the bigger slap in the face is that it just keeps going. Every single year at that [expletive] stockholders' meeting, they slap us in the face again."

As a result of Exxon's policies, Allen's former domestic partner and his current husband have both been denied medical and other benefits they would have received at Mobil.

A gay former employee of XTO Energy and Exxon who spoke on the condition of anonymity for fear of retribution, says of the change in policy, "I feel that [Exxon is like that] racist old aunt, that racist grandfather figure, that person completely out of touch with the times. I don't see the upside to the company for continuing [the discriminatory policies]. Someone must think there's an upside. I don't know what it is…. So, now I'm like, 'OK, how much longer are you going to be out of step with the rest of us?'"

Some version of this question was put to me again and again, by federal and state government officials, lawyers, shareholders, former employees, union representatives, activists from a variety of arenas taking on Exxon, human resources representatives from Fortune 500 companies, and many others: "Why won't Exxon change?"

"Exxon is just such a rogue outfit," says Congressman Alan Lowenthal of California, a cosponsor of the Employment Non-Discrimination Act and the sponsor of an amendment barring Exxon from winning future government oil and gas leases until it changes its LGBT policies. "You don't have to be progressive just to join the rest of the human race and not discriminate. I don't get it."

There's certainly no meat-and-potatoes business reason for Exxon's refusal to budge — a fact that must be obvious to the board of directors, most of whom run companies of their own with perfect HRC ratings. But a variety of explanations suggest themselves: an innate social conservatism, arrogance, hubris, and the entitlement that comes with being one of the most powerful corporations on earth. The world runs on oil, and no one tells the king of oil what to do. No matter how damaging the king's choices.

"The world has moved on and left Exxon behind," says Diane Bratcher, former president of the Equality Project, who has spent some 20 years fighting to change Exxon's LGBT policies. "We told them it had and we told them it would, and they don't care."

Gay at Exxon
1978-1998: Turning Tides at Mobil
Tom Allen was just 14 years old when he landed his dream job: church pianist. That was in 1969. After four years of joyful service, however, his pastor pulled him aside. He had been told that Allen was "a practicing homosexual." If true, he would be expected to resign. "I was shocked," Allen recalls. "So I lied." He thought, "If I have to tell a little white lie to keep doing what God wants me to do, that's worth the effort."

But his heart was no longer in it. Shortly thereafter, Allen left both his position and the church. The lessons he learned that day would define much of his professional life; Allen remained essentially in the closet at work for the next 20 years.

In 1978, Allen was hired as a secretary at Mobil in Dallas. Being gay "became like a strategic game to me," he explains, sitting in a café in the heart of Dallas's Oak Lawn. "I know who I can tell, I know who I wouldn't tell or shouldn't tell or can't tell…I kind of saw it as separate but equal, but at the same time, I didn't let that bother me. As unfair and as weird as that seems today, that's the way the world was.

By the early '90s, Allen had a new, higher-ranking job as a human resources manager, and a new outlook. In the wake of the HIV/AIDS epidemic, "I began to think, OK, you know what? Life's too f-ing short for this."

He chose his moment; at the end of a sexual harassment seminar that had covered only heterosexual interactions, he raised his hand and said, "The whole world ain't straight." The lawyer running the seminar said the case law agreed with Allen; sexual harassment included same-sex offenses.

From that point on, things moved rapidly. Allen and other gay employees found each other "through gaydar." Many were in HR, and during smoke breaks started asking colleagues pointed questions. "It was easy for us to get the message across: 'Do you value me even if you know I'm gay?'"

By the mid-'90s, the Equal Employment Opportunity policy was changed to include sexual orientation. LGBT organizations were formed, and "we began to have more presence, and of course with that comes a lot more confidence."

Mobil CEO Lou Noto flew a group of LGBT employees, including Allen, to the company's headquarters in Fairfax, Va., to share their experiences. As they discussed being treated differently from their straight colleagues, including cases of discrimination, Allen recalls Noto asking his diversity aide, "Help me out here. What is 'straight?'" But the meeting was a success. "I don't think it was six months before we had domestic partner benefits."

Then everything changed.

1999-2013: Falling Backward: from Mobil to Exxon Mobil
In 1999, Exxon merged with Mobil.
Allen and his colleagues looked at the merger with dread. "We were afraid of the Exxon culture," he says. It's an all-too-common refrain.