What's Wrong With Exxon?
BY

Antonia Juhasz
September 03 2013 6:00 AM ET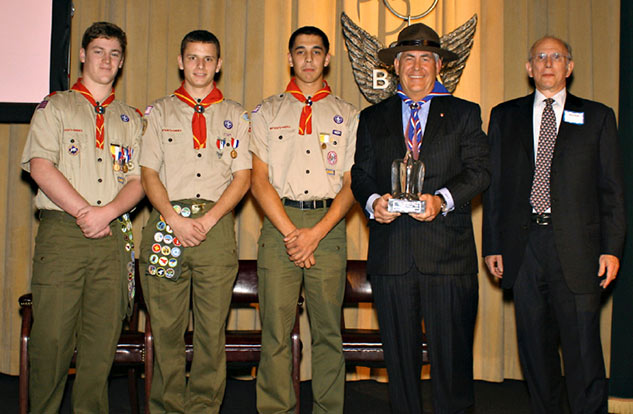 Above: ExxonMobil Chairman and CEO RexTillerson (in hat), past President of the Boy Scouts of America (2010-2012), being inducted into the BSA Eagle Scout Hall of Fame in 2009.
In Private Empire: ExxonMobil and American Power, author Steve Coll captures popular perceptions of Exxon, with the word "cultish" appearing often. Coll quotes other oil company executives describing their Exxon cousins as "ruthless, self-isolating, and inscrutable, but also as priggish Presbyterian deacons who proselytized the Sunday school creed [founder John D.] Rockefeller had lived by: 'We don't smoke; we don't chew; we don't hang with those who do.' Ethics rooted in Judeo-Christian religious tradition were part of the fabric of Exxon."

One executive who served on the board of directors told Coll that Exxon maintains "'kind of a 1950s Southern religious culture. They're all engineers, mostly white males, mostly from the South…They shared a belief in the One Right Answer, that you would solve the equation and that would be the answer, and it didn't need to be debated.'"

Exxon scrapped Mobil's sexual orientation nondiscrimination policy. People with domestic partner benefits at Mobil were grandfathered in, but such benefits would not be offered in the future, nor would they be offered to future partners. "We were shocked," Allen recalls—but they did not feel empowered to make change.

Allen is adamant that in the 10 years he was at Exxon, he knew of no one being fired or demoted for being gay. But he also admits to a work life that, even for him as a manager, amounted to a very quiet "out." Given that there is no legal basis at the company, most states, or the federal level to support claims of discrimination, it is highly plausible that such discrimination, if it did occur at Exxon, would go unseen by Allen and unreported.

The lack of equal benefits, however, is another matter.

Before the merger, Allen's long-term partner, Scott, had his own health insurance. But after the merger, Scott was diagnosed with cancer, lost his job and insurance, and was confined to a wheelchair. Because he was not already on Allen's insurance (and was not Allen's wife), he could not be added.

In 2008, Hurricane Ike struck the Gulf Coast. Allen (who, with Scott, had moved to Houston) and a handful of other employees were called to Dallas, one of whom received permission for her husband to stay at a hotel at Exxon's expense. Allen asked for equal treatment for Scott.

His boss said no, because, "You're single. When it comes to fighting that battle inside this company, you choose your battles wisely. You go for the battles you can win. That's not one of them."

"I felt exploited," Allen recalls. In two years, it was time to retire, and Allen was ready. Then, in August 2012, Allen fell in love again, with Jeff Howard. The two are married, although neither Texas nor Exxon recognizes the union. Howard suffered a heart attack a few years ago and the repercussions persist; he has no health insurance. With any Exxon retiree who divorces and remarries an opposite-sex partner, the new spouse is eligible for insurance. Not so for Allen and Howard.

As for Exxon, Allen does not regret the time he spent there, but he is pissed off and wishes senior management "would do us the courtesy of listening" and finally change its policies. And he wants to know "Why? Who or what is doing this? What's causing this? Where is the roadblock?"

Falling Backward 2: from XTO Energy to Exxon
By the time Exxon acquired XTO in 2010, equal employement rights and benefits were increasinly taken for granted, and Houston had a lesbian mayor, Annise Parker. LGBT employees of XTO, like "Fred," had every reason to feel hopeful that the changed climate would help ensure they would keep their existing protections. Instead, Exxon followed the same playbook it used in the Mobil merger.

"Fred," a gay former XTO/Exxon employee, is baffled by the decision. "To my knowledge they've never articulated why they think it's a good business practice, other than the blanket 'we don't impose anything on ourselves that we're not required to'," he says.

He believes the policy creates a chilling effect, keeping LGBT employees from speaking out within the company. It also applies to speaking with the press. Fred explains, "There is nothing written about Exxon that they are not aware of." Every story is scrutinized and a written response prepared. If the story is big enough—such as when Exxon was sued for employment discrimination based on sexual orientation—talking points are circulated to all employees.

Exxon Mobil Sued for LGBT Discrimination
On May 22, 2013, Freedom to Work, a nonprofit advocacy organization working for the passage of ENDA, sued Exxon for engaging in employment discrimination on the basis of sexual orientation, constituting a civil rights violation and unlawful discrimination under the Illinois Human Rights Act.

Six months earlier, two young women, Jennifer Priston and Michelle Caland had submitted applications for the same administrative assistant position at Exxon in Patoka, Ill. Both women lived in Springfield, had graduated from the same local high school and community college at the same time, and were active in their local communities.

But Priston was clearly the better-qualified candidate. She had higher grade point averages in high school and college, more advanced computing skills, a broader range of relevant work experience, and previous jobs with greater responsibility and tasks that were more relevant to the duties at Exxon.

There were other differences as well. Caland identified as a feminist by noting her participation in the Feminist Activist Coalition; Priston identified as LGBT by noting her volunteer work at the Gay and Lesbian Victory Fund.

Though Caland was the weaker candidate, Exxon sought on multiple occasions to contact her to arrange an interview for the position. She never responded. Priston received nothing more than an automated email confirming receipt of her application.

The Illinois Department of Human Rights has opened an investigation into the case. "The facts as alleged would constitute a violation of the Illinois Human Rights Act," says department spokesperson Mike Claffey. (The investigation is ongoing, but will head to court if sufficient evidence is found.)

Priston and Caland are not real people. Their fake résumés were developed by the Equal Rights Center, which has conducted decades' worth of similar testing to uncover discrimination in housing, employment, and other areas. This is the first use of this method linked to litigation in an LGBT discrimination case.

The idea for the Exxon sting came from Tico Almeida, founder and president of Freedom to Work (featured in the Advocate 40 Under 40 list in 2012). Almeida, who had previously served as lead counsel on ENDA for the House Committee on Education and Labor, will drop the suit if Exxon implements LGBT policies and trains its managers. But if it fails to do so, he's prepared to go to court.

"We have caught Exxon red-handed," says Almeida. "We are sure a jury will decide there was no valid reason for Exxon to prefer the non-LGBT candidate. There is only one explanation, and that is discrimination."

Freedom to Work's investigation uncovered another instance of Exxon's employment discrimination based on sexual orientation in Texas. But unlike Illinois, Texas has no law against such discrimination.

"Exxon Mobil Does Not Discriminate"
Exxon maintains that it does protect against discrimination and that no LGBT resolution is necessary to change its policies. The company declined multiple requests for interviews for this piece, but asserted—in an emailed statement—that its "global, zero-tolerance policy applies to all forms of discrimination, including discrimination based on sexual orientation and gender identity."

This statement, however, is not, drawn from Exxon's EEO policy and does not provide equivalent legal protection. Exxon's EEO policy specifically enumerates every protected category, including age, race, sex, and religion, but does not include sexual orientation or gender identity.

"Having a nondiscrimination policy is very black-and-white," says HRC Workplace Project Director Deena Fidas. "Exxon does not have one."

Changing Exxon: Shareholder Resolutions
The effort to force Exxon to change goes back at least to 1997, when the Equality Project began pushing a shareholder resolution calling on Exxon to include sexual orientation in its EEO policy. The resolution was later expanded to include gender identity.

In spite of Exxon's board's annual instruction to shareholders to oppose the resolution, it has received the support of as much as 40% of shareholders at its peak in 2008.

The resolution first appeared on the ballot in 1999, sponsored by shareholder Marianne Weil. Her wife, the Equality Project's Diane Bratcher, says Weil received anonymous letters threatening to "cut her up, calling her a dirty cunt, gross stuff," in response.

From 2000 to 2009, the lead sponsor of the resolution was the New York City Employee Retirement System. From 2010 on it has been the New York State Common Retirement Fund, with its 14,103,456 Exxon shares valued at $1.3 billion.

New York Comptroller Thomas DiNapoli reports that his office has helped nearly 30 other large companies agree to new nondiscrimination policies. DiNapoli describes Exxon's attitude toward the resolution as "dismissive" and finds its
resistance "mystifying."

The Activists
Resource Center Dallas has successfully worked with numerous local colleges and universities, governmental agencies, and businesses to make their employment nondiscrimination policies more inclusive. Exxon seemed simply too immovable to be worth the Center's already over-stretched time.

But in January 2012, Marilyn Carlson Nelson, a longtime Exxon board member (she has since stepped down), wrote an op-ed in the Minnesota Star Tribune supporting same-sex marriage.

The Center saw good reason to assume Nelson's opinion was indicative of a board open to LGBT-inclusive policies. The majority of Exxon's board members lead companies with Corporate Equality Index ratings of 100. In fact, every current board member who has served as a CEO or on the board of a company with an official CEI ranking has been at a company with a minimum rating of 90, most 100. The only exception is Exxon CEO Rex Tillerson.

Tillerson was former CEO Lee Raymond's handpicked successor and is cut from the same cloth. Recruited straight out of the University of Texas at Austin, he has worked at Exxon his entire career and became CEO in 2006. He is regularly portrayed as seeking to remain faithful to Raymond's policies, an attitude toward "the Exxon legacy" common among senior management.

Neva Goodwin, great-granddaughter of John D. Rockefeller, says, "All of the top executives are imbued with the Exxon culture and regard themselves as carriers of the culture." She describes Tillerson as civil, "but [he] never responds in such a way that suggests that he could be at all influenced to change his positions."

Tillerson is also a life-long member and past president of the Boy Scouts of America. His term expired a year before the group's decision to allow gay troop members, but not leaders. His personal views on that matter and Exxon's discriminatory policies are a well-kept secret.

Regardless of Tillerson's personal views, it seems likely that the board, frequently described as turnkey for Exxon's respective CEOs, is following orders from the company's top executives when it recommends opposition to the shareholder resolution each year.

On April 4, 2012, Cece Cox, Resource Center Dallas director and CEO, wrote to Nelson, indicating her desire to meet with Exxon officials to share the Center's expertise. Cox did not receive a response.

Cox then wrote to Malcolm Farrant, a newly installed vice president of Exxon HR, forwarding her letter simultaneously to the Dallas Voice, which published it the same day. Within hours, David Rosenthal, Exxon vice president of investor relations, contacted Cox.

Their meeting took place at the Irving headquarters in June 2012.

Cox was joined by Rafael McDonnell, Center communications and advocacy manager; Center volunteers Rebecca Solomon, a vice president at Bank of America, and Paul von Wupperfeld, a Texas Instruments manager; and Center board member Gary Fraundorfer, vice president of HR at AT&T. Though not representing their respective companies, they were able to offer expertise as employees of Fortune 500 companies either based in or with a substantial Texas presence that had successfully implemented LGBT-inclusive policies.

At the meeting, von Wupperfeld said that for Texas Instruments, a "traditional, conservative," Dallas-Fort Worth-based company, it was "amazingly easy" to implement these policies. Moreover, "within our corporate culture there has been far greater lasting blowback from when we stopped giving away free donuts in the cafeteria."

McDonnell shared a statement by the Family Research Council commending Exxon for "Resisting the Demands of Homosexual Activists" by rejecting the inclusion resolution. He asked, "Do you want these people speaking for your company?"

They felt that this was one of many "aha" moments for Exxon representatives, and left feeling optimistic.

Yet of their Exxon counterparts, Solomon says she "got a feeling that they exist on such a high level above everybody else that they just are not aware of what's happening socially around them. They're so large and so impenetrable, and I just don't even think they care so much until someone actually asks the question in the room."

Fifteen months later, Exxon has taken no actions and had no further contact with the Center, despite numerous letters and emails. It is a common experience recounted by many I interview: Exxon's executives listen respectfully, then go about doing exactly what they've always done.

But there are many others in the fight. Cd "Chaz" Kirven and Mark Reed-Walkup, both well-known activists in their own right, are founding members of the nonviolent direct action protest group GetEqual. Since 2010, GetEqual Texas has led several protests against Exxon.

California's Prop 8 led Reed-Walkup to activism. Kirven's activism has many roots, including witnessing friends, transgender people, and butch women in particular losing jobs without any protection. For both Kirven and Reed-Walkup, their efforts are an extension of the African-American civil rights movement.

In January 2010, Kirven, Reed-Walkup, and fellow Texan Michael Robinson attended a national GetEqual retreat at the Highlander Center. Kirven saw iconic photographs there of black and white youths sitting together at the Woolworth lunch counter in the 1960s, being dragged to the ground and arrested because "Negroes can't eat here," which led her to conclude: "We need our lunch counter."

"That's what we have to do with employment discrimination," she recalls thinking. "It needs a face, so that people don't think of it in the generic form." What better face than Dallas's own Exxon Mobil?