Destination: Berlin
BY

Matthew Breen
November 01 2013 4:20 PM ET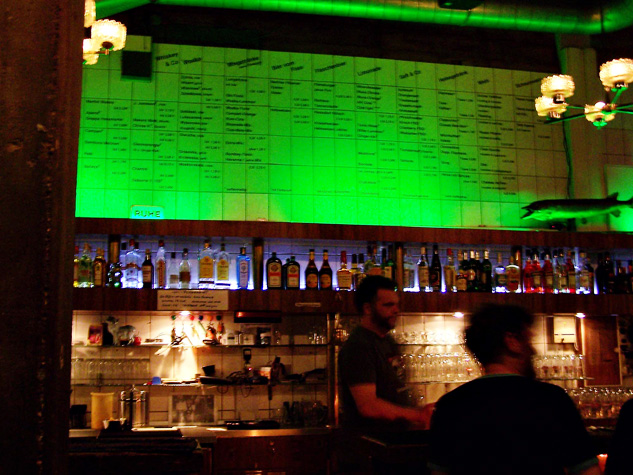 Möbel Olfe bar
FRIEDRICHSHAIN
It's Friedrichshain, in the former East, where I spent most of my last trip. The district oozes a counterculture sensibility and is only now becoming transformed by gentrification. The rough-around-the-edges vibe is a draw for students, artisans, and artists. The neighborhood is anchored by Boxhagener Square, and on sunny days the park is packed with tattooed 20- and 30-somethings lounging in the sun, drinking beers brought from home or nearby corner shops. Beer is a way of life in Germany, and consistent with Berlin's relaxed ethos, you can take your beer with you just about anywhere, including on the metro. Bohemian and alternative are terms that lose some specificity in our contemporary era that commodifies them, but they're virtually defined by the residents of Friedrichshain.
Bars, coffee shops, restaurants, and clubs lie in such concentration here that one barely needs a plan before heading out. Simon-Dach Straße, lined with colorful 19th-century buildings, is a prime spot for a happy hour, a genuine "bar mile." The 20 bars and cafés have room for 2,000 people to sit streetside for conversation and people-watching.
Food options are endless, including many Thai, Korean, and German restaurants. Datscha (Cafe-Datscha.de) serves incredibly lush borscht, and Mutzenbacher (Mutzenbacher-Berlin.de) melds Austrian-style cuisine with a hint of glammed-up Alpine décor. Himmelreich (Gay-Friedrichshain.de/Himmelreich) is a convivial queer locals' spot with lots of outdoor seating, cherubs dangling from the ceiling of the bar, and a ladies' night each Tuesday. Watch out for bicycles in this neighborhood; cyclists apparently don't much care for the idea that they should be kept to the streets. Pedestrians be warned.