---
Artist Spotlight: Ryan Martin
By Christopher Harrity
Originally published on Advocate.com March 16 2013 6:22 AM ET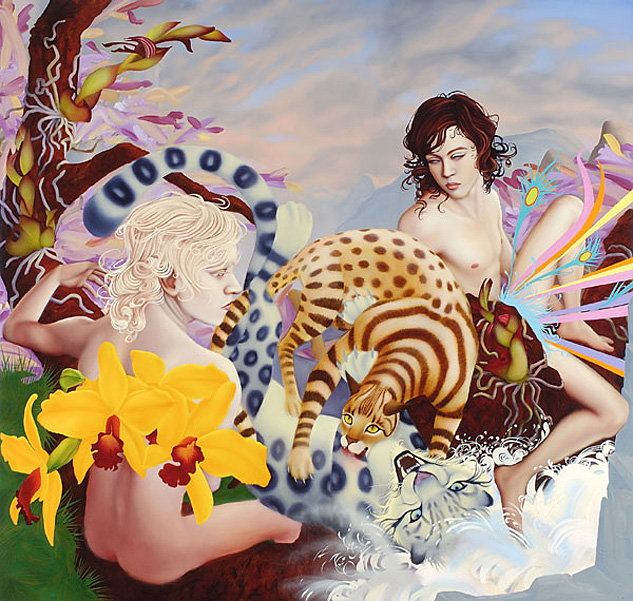 2 of Amerikaz Most Wanted, 2008, 80 x 84 inches
Ryan Martin was raised in Orange County, Calif. and attended conservative private schools throughout his youth before moving to the San Francisco Bay Area, to study fine art.

A mecca for the LGBT community, the Bay Area influenced Martin's artwork through celebratory color and explosive brushstrokes. All the while, tightly rendered figures seem conflicted within their fanciful environments. The paintings resemble an archeological dig of the exotic, mythical landscapes but on the verge of destruction. The figures encompass not only insecurities of being an unequal youth, but also the feelings of entitlement and power.

Martin's paintings have been exhibited in art shows and fairs in San Francisco, Los Angeles, Miami, and New York City. He is currently creating works for his next solo exhibition in San Francisco.
For more information:
ryanstevenmartin.com
facebook.com/Ryanmartinart
etsy.com/shop/martinprints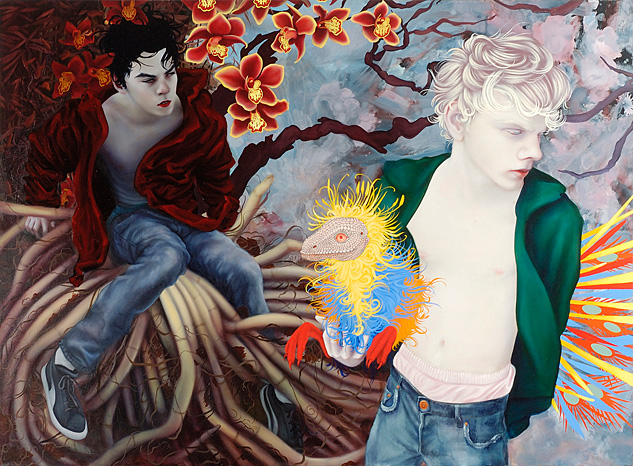 To Live and Die in L.A., 2008, oil on canvas, 66 x 90 inches
The Advocate: Your use of color is terrific. How did your color sense evolve and which other color-driven artists influence you?
Ryan Martin: I started out using a limited color palette, painting monochromatic portraits with earth tones. They were quite conservative. It was when I moved to the Bay Area, that I developed my knowledge of color. I began to be mentored by photorealist Jack Mendenhall. He pointed out that in my paintings I used value changes to capture light; but in his work he used both value and color. I soon left figurative painting for about a year, to solely explore his teachings. Departing from portraiture helped me grow as an artist. In my youth I grew up in conservative schools and neighborhoods, and feel that my early paintings reflected this; they were colorless. I started creating field paintings, filling the entire canvas with only one color, and varying hues to create depth. The paintings were boring yet successful since they captured light using color and not just value. When I returned to the human figure as my subject, the colors decided to stay. My use of color in recent works became allegories for elements of myself that I had kept hidden but I now love.

Artists whose works influence me: I'd have to mention Lisa Yuskavage. Her color sense is badass; the color and finish of her paintings are so tasty. She uses amber yellows that look like honey and greens that look like polished apples. All her colors are like the candied shells of jellybeans. Cinema over the years has been influential as well, the way color and filters are used in film, most of Jean-Pierre Jeunet's movies come to mind, Martin Scorsese's later features, and also Sofia Coppola's Lost in Translation or Marie Antoinette.

Your work suggests a contemporary surrealism. How random or chosen are the objects and characters in your paintings?
The first decision for me is the model, usually they're friends or family but more recently they have been professional models. I do a photo-shoot with them, and later use the images as reference for the paintings. Painting from reference can seem constraining so it's the later process that keeps me happy. When watching a movie the last thing I want to know are what all the plot lines are, so in a similar way I begin a painting. Each day when I revisit the piece I won't have any idea where it's going to go, its quite thrilling. From my archive of references, I'll sift through imagery, choosing elements to add to the painting. I'll choose to paint in a hippo, butterfly, or rosary not because it would build on an existing narrative, but rather because it simply interests me that day, and I look forward to rendering it. While most of the process is playful, in the last few layers I'll begin to tie together hints of narratives that I see within the subjects. The subjects and themes don't always fit together perfectly but I feel that's reflective of life.

There is an uneasiness to many of the paintings included here, as if something really apocalyptic is about to happen. Is that intentional and would you talk about that?
Yeah, I think it starts from my childhood; I was a pretty wussy kid. I remember being afraid of not only the dark, but just night in general, isn't that when demons, Bigfoot, and aliens come out to do their deeds? My imagination ran wild. I don't think I ever believed the world would last long enough for me to reach adulthood. Well it did, and while the fears disappeared, so did the magic, all those thrills of childhood whether good or bad, they left. For me, paintings that are relatable or that have magic are ones that not only show Eden but also our end.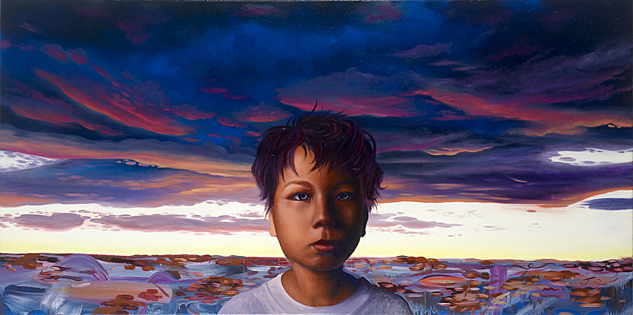 400 Years, 2010, oil on canvas, 22 x 44 inches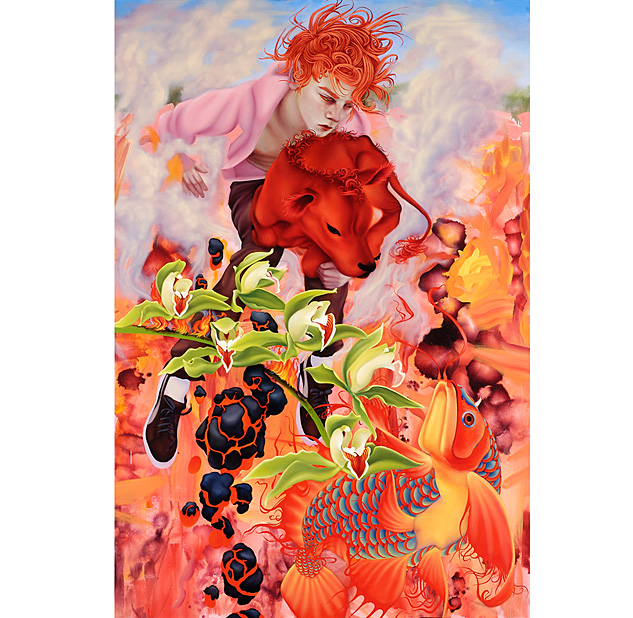 Bigmouth Strikes Again, 2008, Oil on canvas, 96 x 60 inches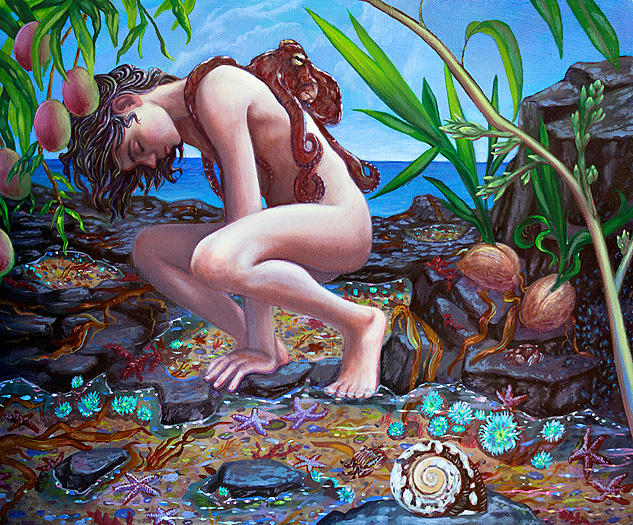 The Rising Tide, 2012, oil on canvas, 16 x 20 inches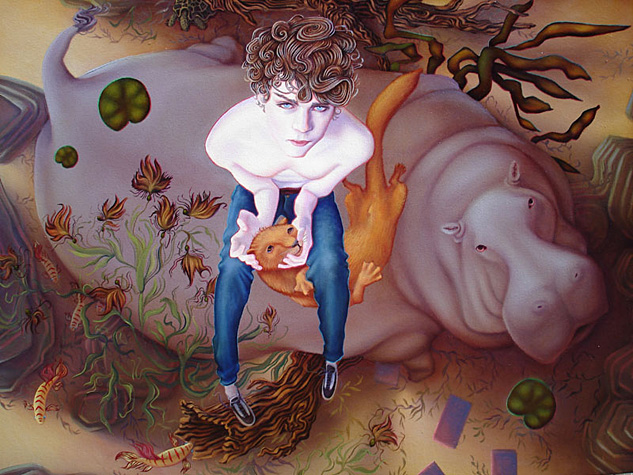 Brick, 2008 oil on canvas, 36 x 48 inches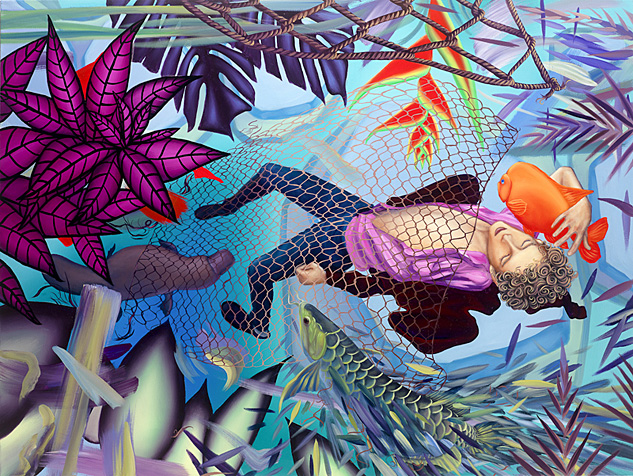 Swallowed, 2010, oil on canvas, 36 x 48 inches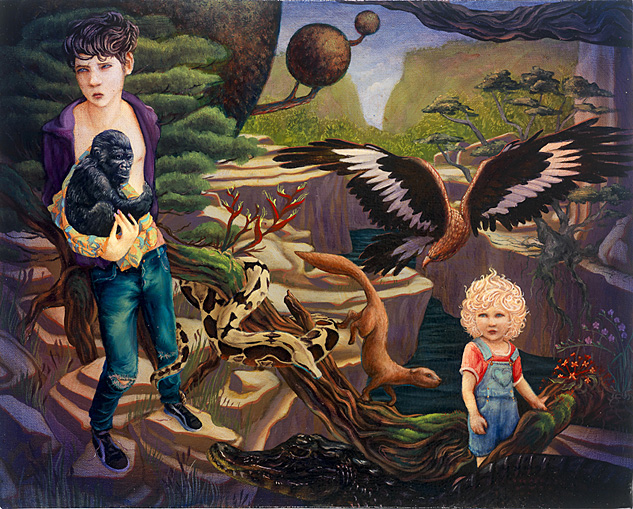 By Your Side, 2010, oil on canvas, 16 x 20 inches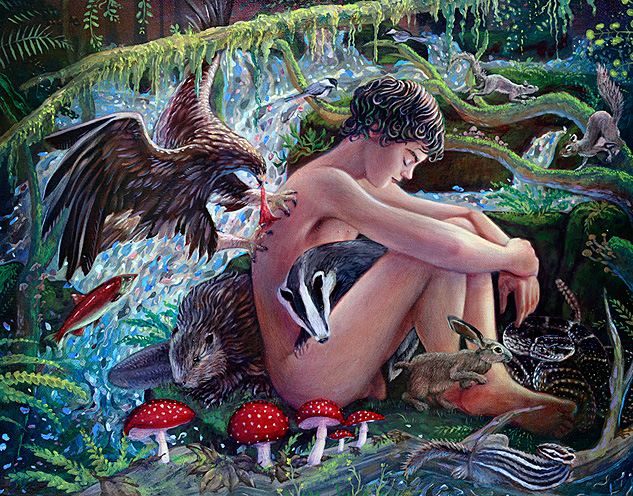 Strip My Mind, 2012, oil on canvas, 16 x 20 inches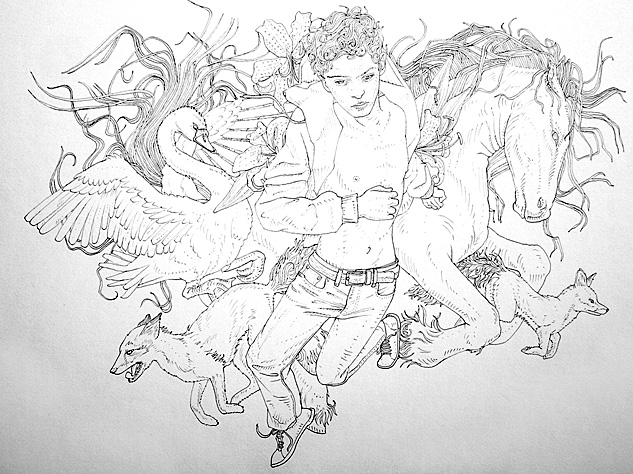 Untitled (Swan), 2012, ink on paperboard, 15 x 20 inches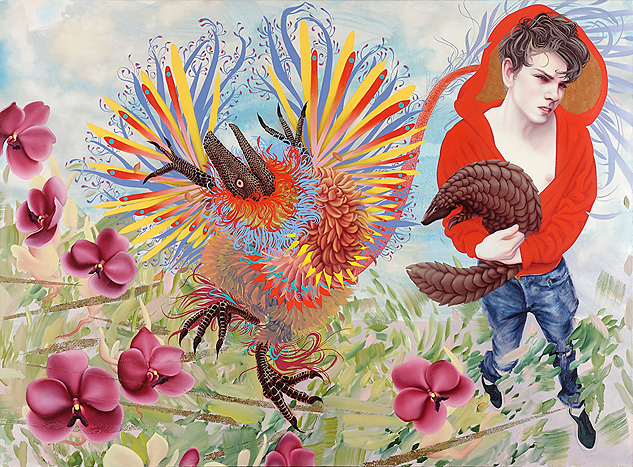 Dancing Days, 2008, oil on canvas, 62 x 84 inches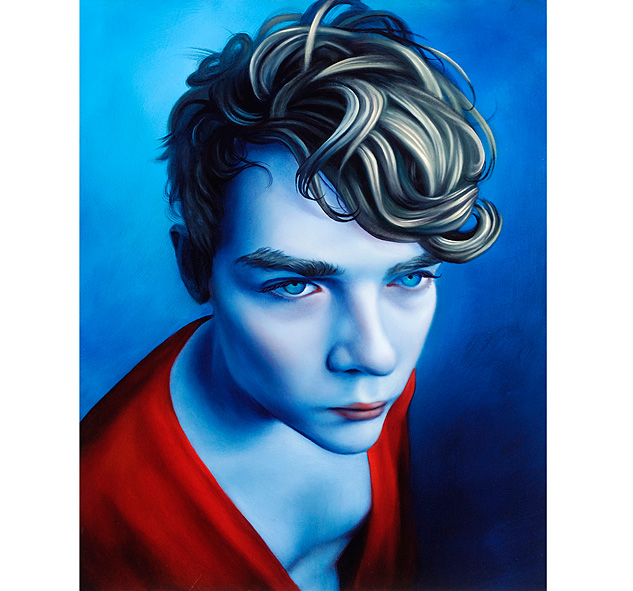 Proud Mary, 2007, oil on canvas, 24 x 20 inches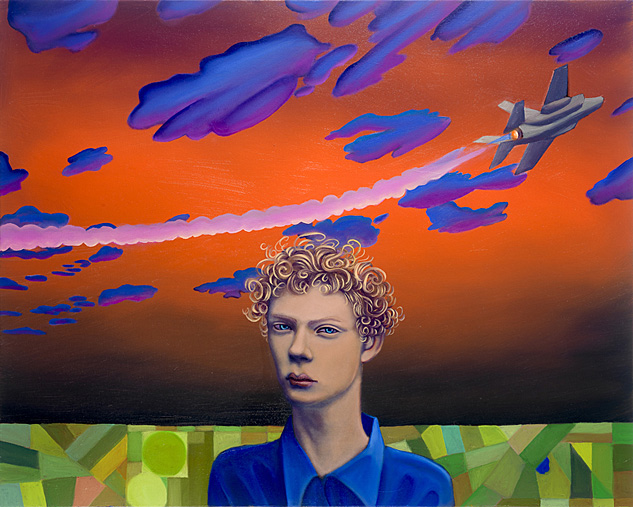 Dustbowl Dance, 2010, oil on canvas, 24 x 30 inches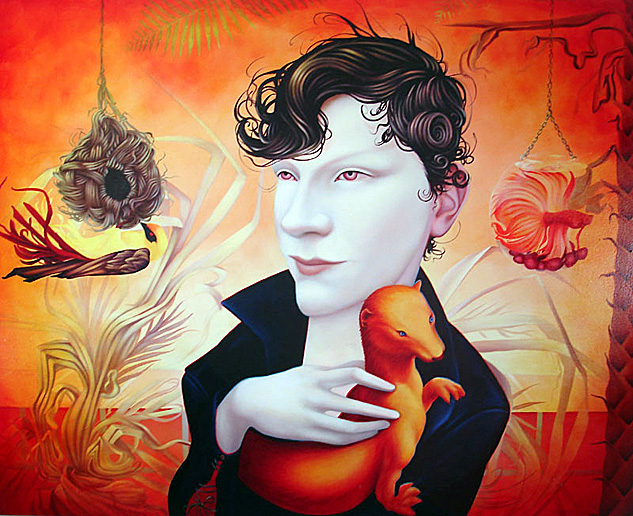 Please, Please, Please Let Me Get What I Want, 2008, oil on canvas, 48 x 60 inches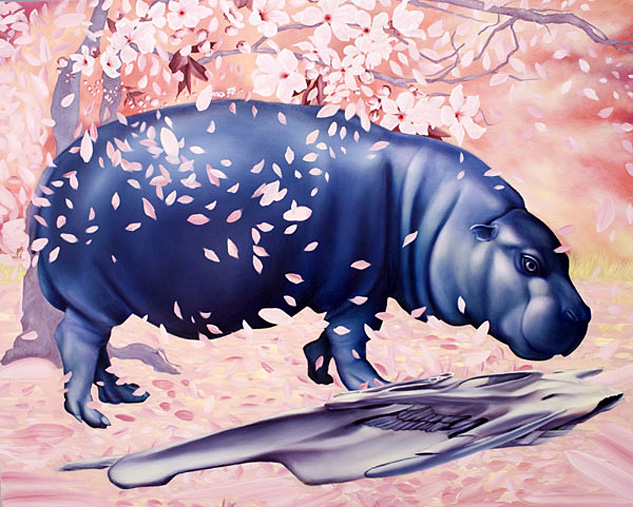 Holiday, 2008, oil on canvas, 48 x 60 inches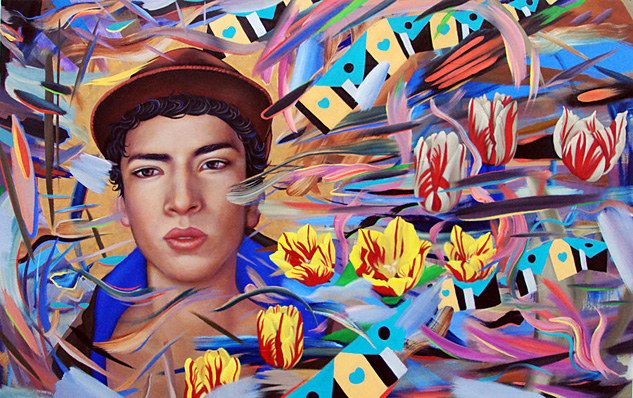 Electric Feel, 2011, oil on canvas, 30 x 40 inches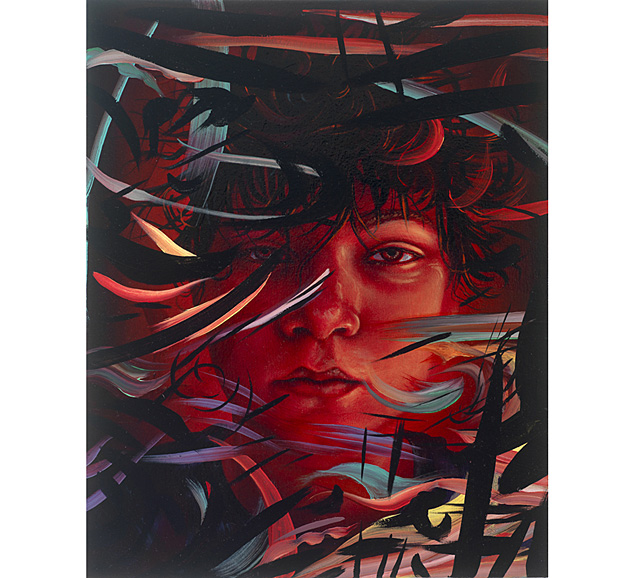 Memories Fade (self-portrait), 2010, oil on canvas, 20 x 16 inches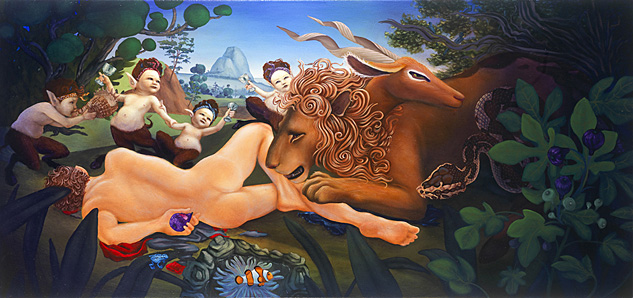 Howl, 2010, oil on canvas, 20 x 60 inches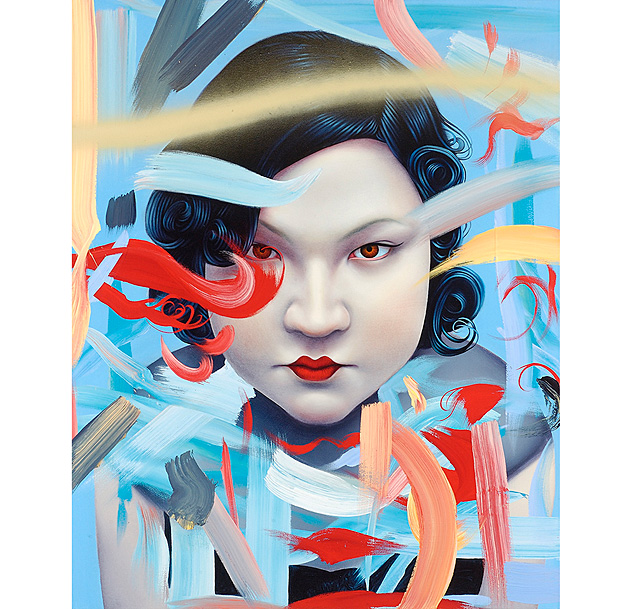 Lucky Star, 2008, oil on canvas, 50 x 40 inches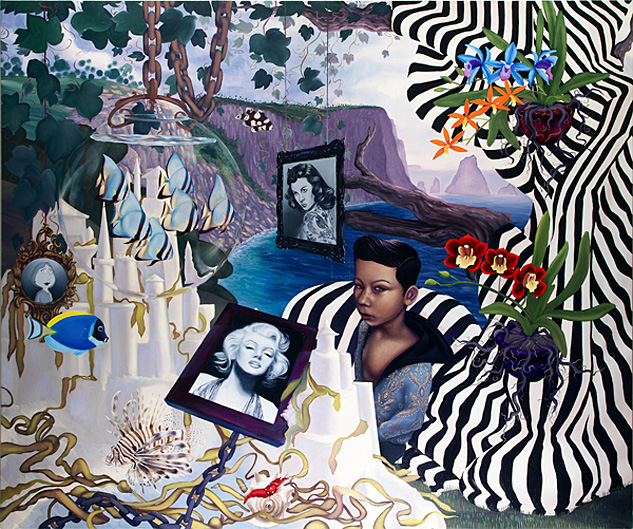 Landslide, 2010, oil on canvas, 60 x 72 inches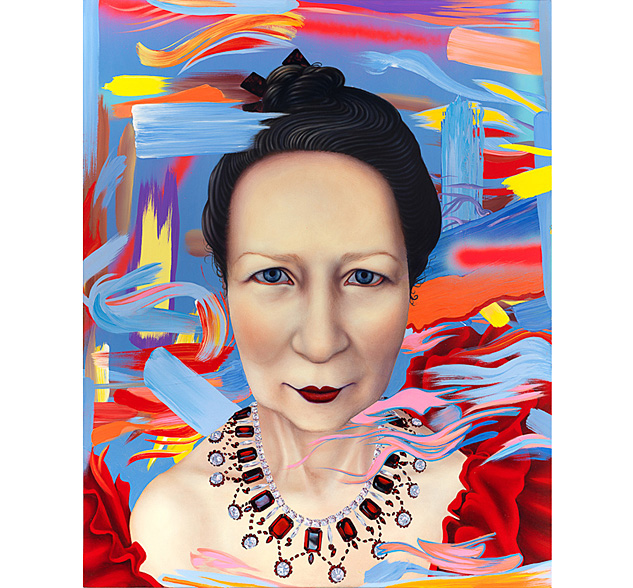 Linda, 2010, oil on canvas, 50 x 40 inches

Secrets, 2013, oil on canvas, 9 x 12 inches
---
Links:
[1] http://www.advocate.com/
[2] http://www.ryanstevenmartin.com
[3] https://www.facebook.com/Ryanmartinart
[4] http://www.etsy.com/shop/martinprints
[5] http://www.advocate.com/arts-entertainment/art/artist-spotlight