---
Artist Spotlight: Christopher Sousa
By Christopher Harrity
Originally published on Advocate.com May 25 2013 4:00 AM ET
Christopher Sousa is a largely self-taught painter. He lists Lucien Freud, Paul Cadmus, Jenny Saville, J.C. Leyendecker, and Euan Uglow among his influences. He was born in Fall River, Mass., in 1968, and apart from a quick stint in Los Angeles, he has always lived in Massachusetts. After moving to Provincetown 10 years ago he began painting, but he had been drawing all his life. His environment was less than supportive when he was growing up. Sousa describes his family life as "pretty dysfunctional" and says he was a "wild child." His family and school guidance counselors discouraged his idea of pursuing art as a career, advising him instead to learn a trade that pays well. Thankfully, the wild child would have none of that.
More on Sousa: His Tumblr site; "A" Gallery in Provincetown; and the Woodman/Shimko Gallery in Palm Springs, Calif.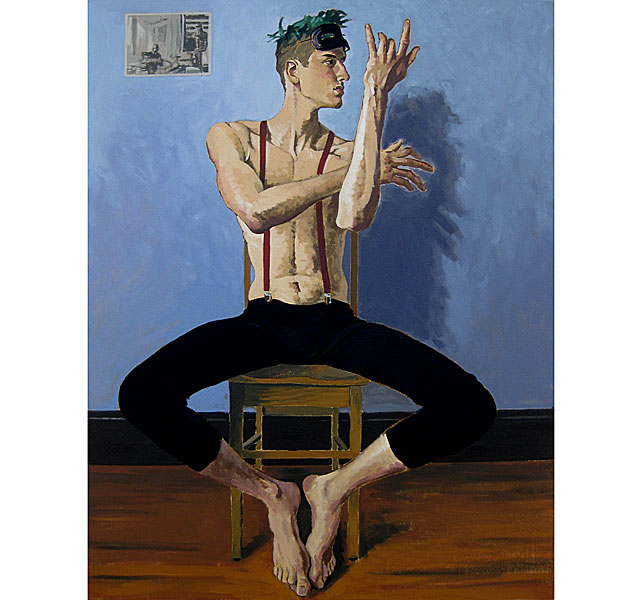 Untitled, 2013

The Advocate: When did you first start painting? Did you begin with the male figure? If not, how long did it take you to get there as your main subject?
Christopher Sousa: As stated, I began painting about 10 years ago when I moved to Provincetown. As far back as I can remember I have always been fascinated with and wanted to depict the human form. I used to draw pictures of Playboy centerfolds when I was a kid and would spend hours drawing female movie stars from magazine photos. As I grew older my attention turned to males. When I was a teenager I watched with much fascination the developing bodies of my friends and schoolmates, and my natural instinct was to draw them. It's still my subject of preference, although I'm sure I will do more female figure paintings in the future. But for now it's males.

Your compositions are so formal and random at the same time. Stories start to emerge, then disappear. Is there a mythology going on here? Or are these setups, props, and top hats just punctuation?
I think the formal aspect stems from the fact that I've worked for the past 10 years in a gallery that specializes in vintage photography. In old cabinet cards and daguerreotypes the subject had to remain very still to accomodate the long exposure time. This often resulted in a very stiff and formal quality. These photos look more like still lifes than portraits of actual humans. There's a "flatness" that appeals to me. I like the strange aesthetic quality of these old photos and I think it has informed what I do to a great extent. A few years back we had a show at the gallery of photographs by Mike Disfarmer, whose portraits from the '30s and '40s, which were taken with an antiquated camera using glass plate negatives, possess a similar stiff, uncomfortable quality. I think these photos influenced my painting as well.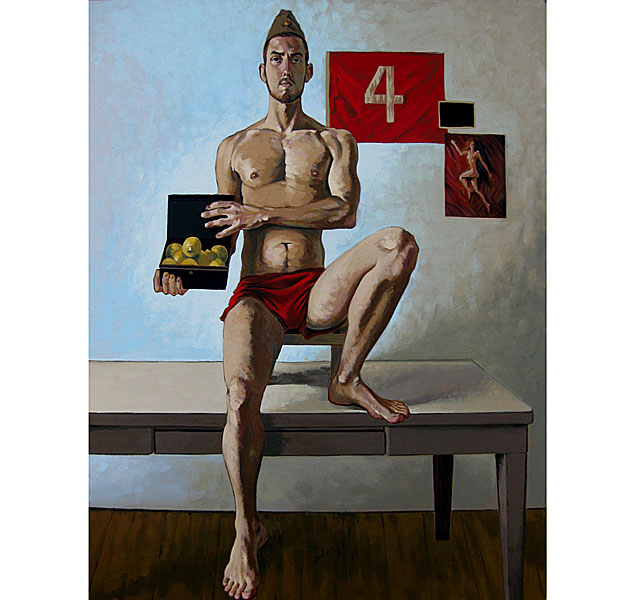 Untitled, 2013

The first show of paintings I ever did was a few years ago. It was a series inspired by the photographer E.J. Bellocq, who photographed New Orleans prostitutes in the early part of the 20th century. His subject were often posed in corsets and stockings, somber-looking "fallen women" in elaborate undergarments with their Gibson girl hairdos. My idea was to depict a fictional series of male portraits as a sort of counterpoint, so I began collecting vintage men's garments such as top hats and bowlers, suspenders, union suits, etc., and using them as props. I continue to use these same props, but lately I've also begun inserting seemingly random (but significant to me) objects into the compositions and setting up scenarios inspired by books, photos, or movies that have affected me at some point in my life, visual elements and events that made an impact on me. I recently did a painting inspired by the final scene in the movie Bonnie and Clyde and another based on the Black Dahlia murder case. Despite these rather dark themes, I try to maintain a whimsical quality in my paintings. I want them to feel a bit curious, but not macabre. And of course, there's always a beautiful subject to distract the viewer from any unpleasantness.

The Way I Always Dreamed It Would Be is really great. Are you doing more video of your models? And do you use photography as part of your process?
I've always painted from photographs. It's just a matter of practicality for me. I can't afford to pay a model for the 10 to 20 hours it may take me to complete a painting. And with photos you don't have to deal with coordinating schedules, changing lighting, etc. I shoot digital photos and take some Polaroids as well. I like the soft muted tones produced by Polaroid film.

"A" Gallery, where I show in Provincetown, asks each of their artists to produce a video to show alongside their work during exhibits. I have made two videos so far and it's been interesting. It's not something I feel particularly adept at, but I'm enjoying learning the process and I'm looking forward to creating something to screen during my show in July. The process has been quite different in that with the photos I take for my paintings, I'm very focused and have clear, preconceived ideas about what I want. With video, I try to interact minimally with the model and just let things occur organically, see what happens. It's actually a lot of fun.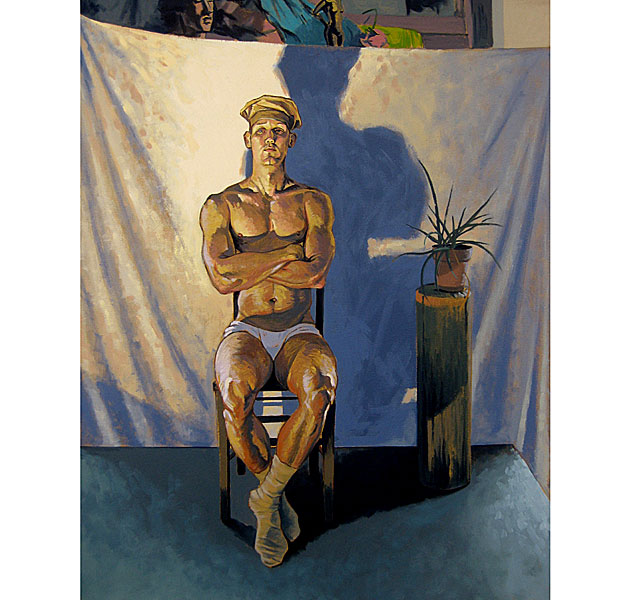 Untitled, 2013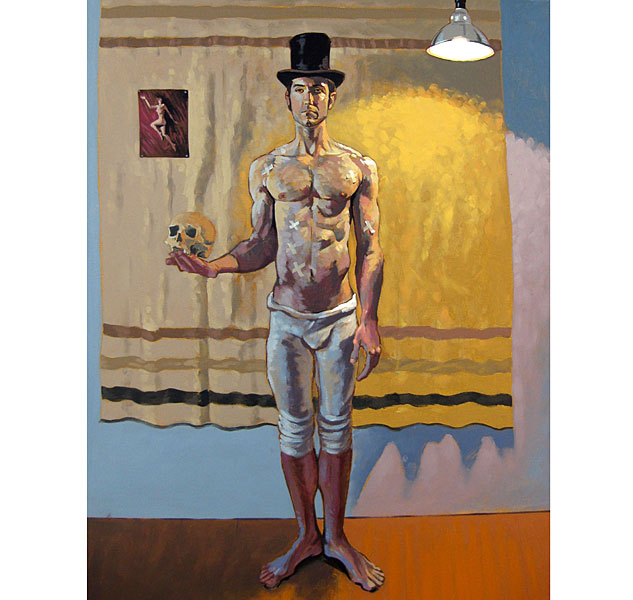 Untitled, 2013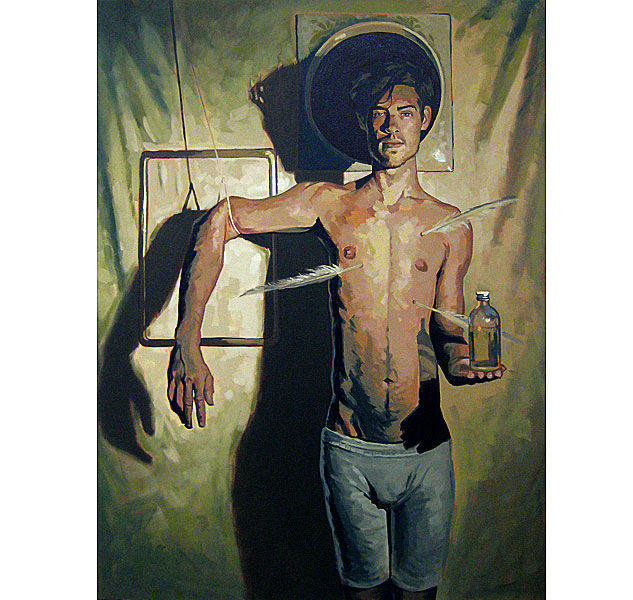 Boy Cried Wolf, 2012, oil on canvas, 40" x 30"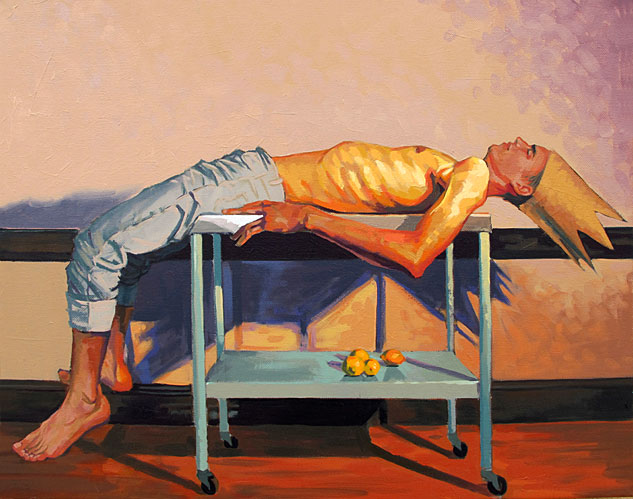 It's All-Handled, 2012, oil on canvas, 16" x 20"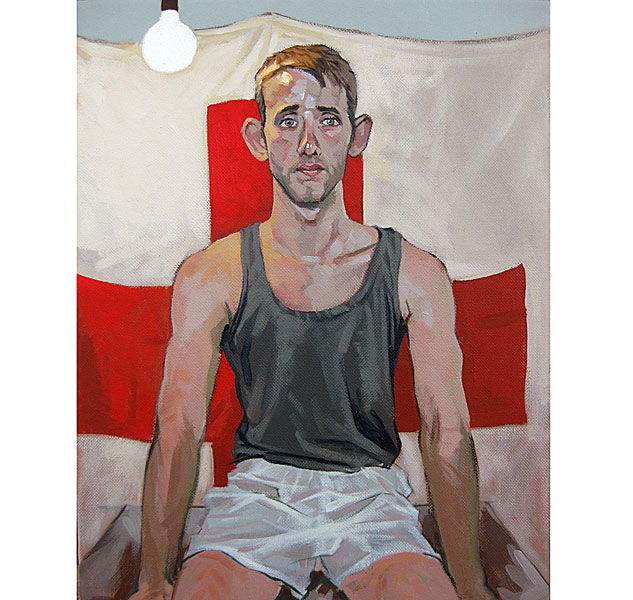 Just Give Me More, 2012, oil on canvas, 14" x 11"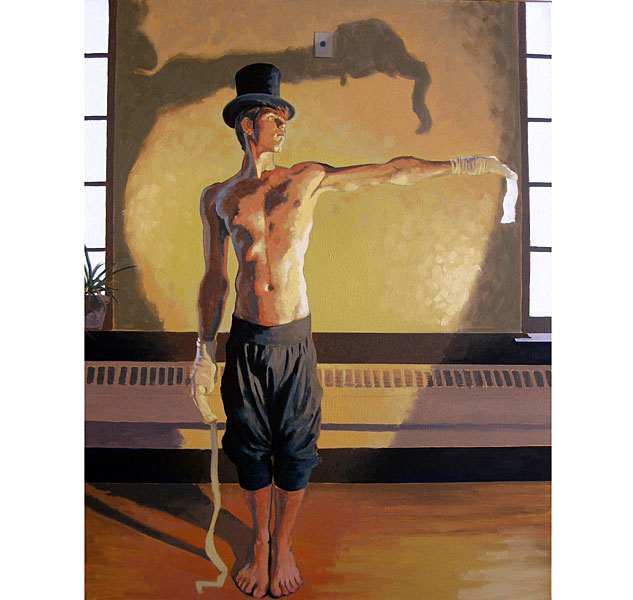 It Falls Apart So Easy, 2013, oil on canvas, 28" x 22"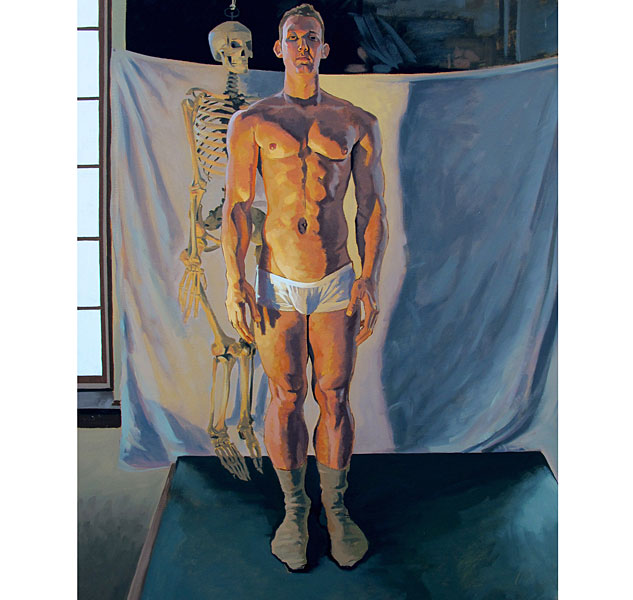 On Some Faraway Screen, 2012, oil/canvas, 28 x 22"

It Was All I Had to Go On, 2013, oil on canvas, 22" x 28"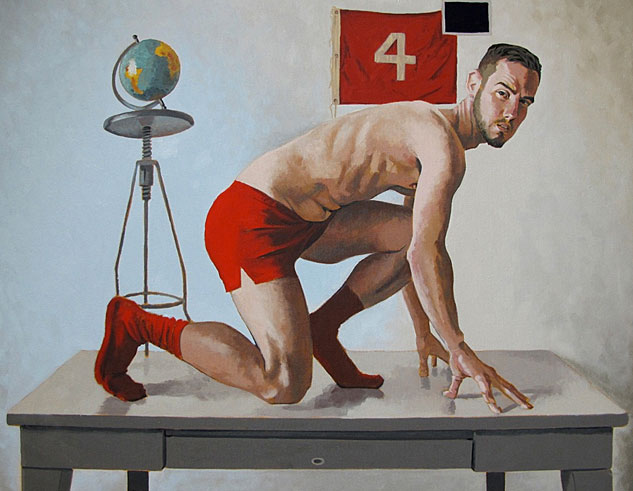 Pining for the Moon, 2013, oil on canvas, 22" x 28"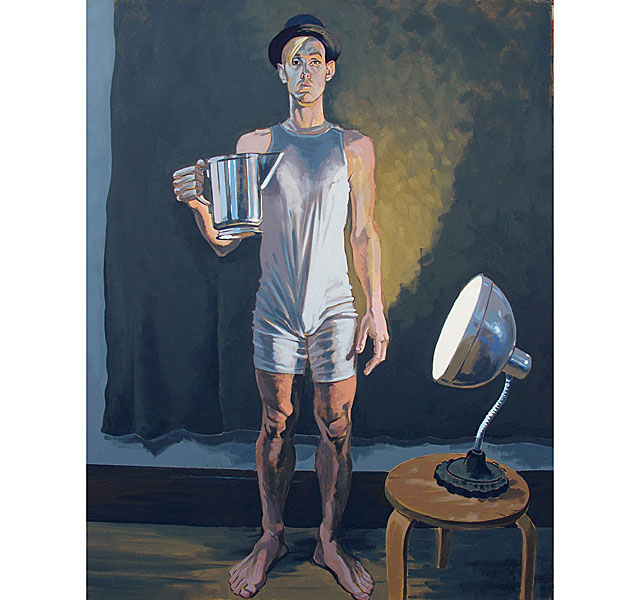 Nothing Would Please Me Better, 2012, oil on canvas, 28" x 22"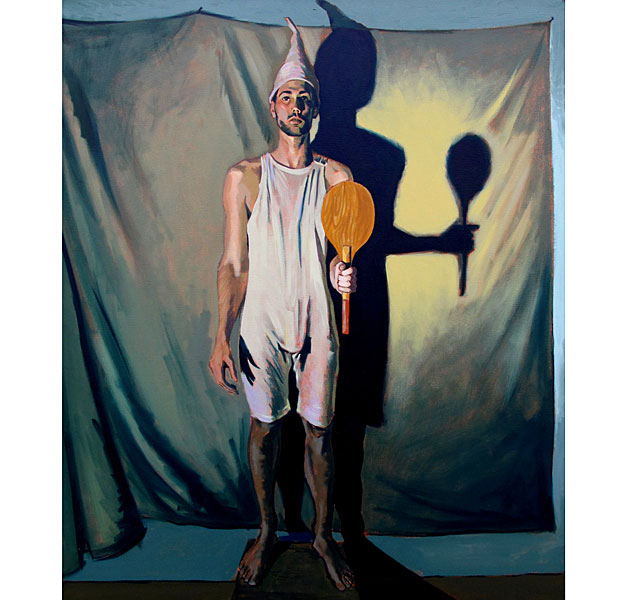 One Happy Day, 2011, oil on canvas, 20" x 24"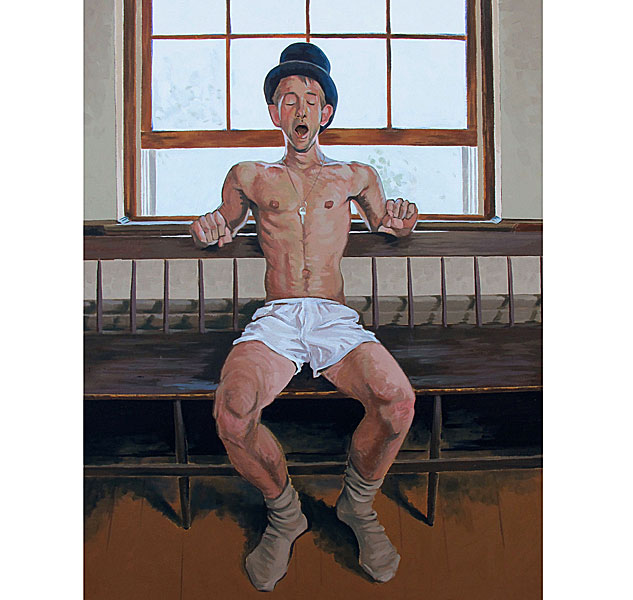 Snow Blind, 2012, oil on canvas, 22" x 28"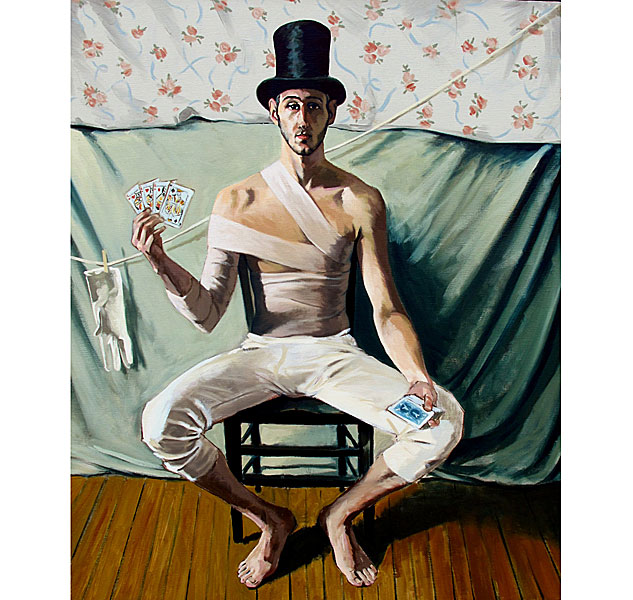 Speak It to My Face, 2011, oil on canvas, 20" x 24"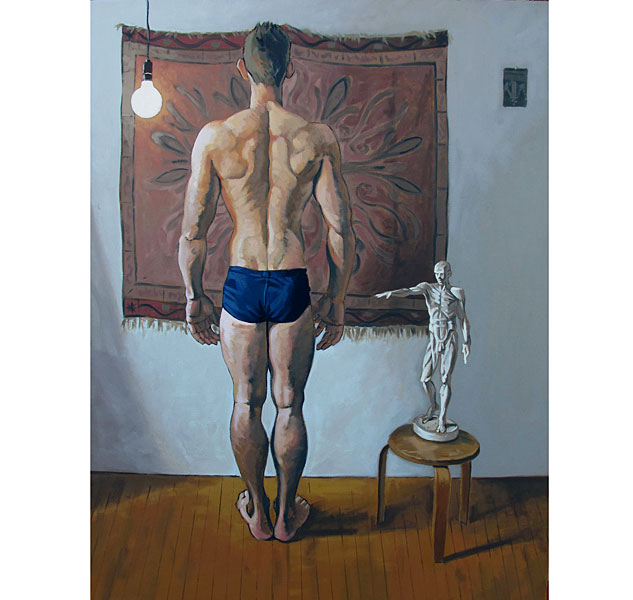 Untitled, 2012, oil on canvas, 28" x 22"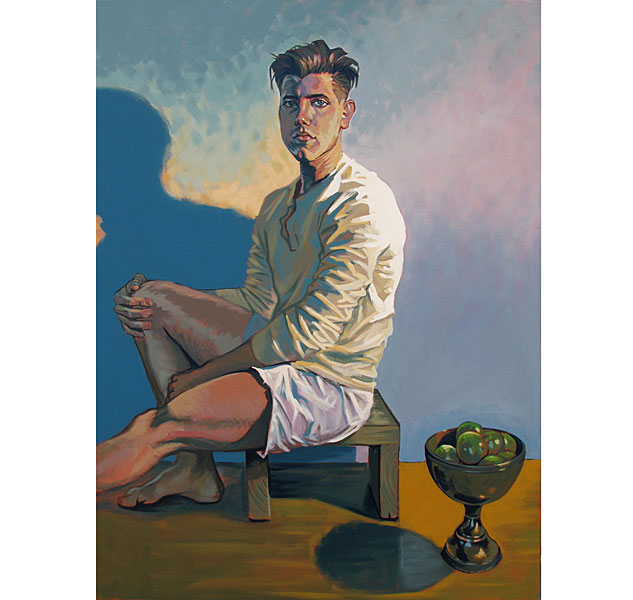 Untitled, 2012, oil on canvas, 40" x 30"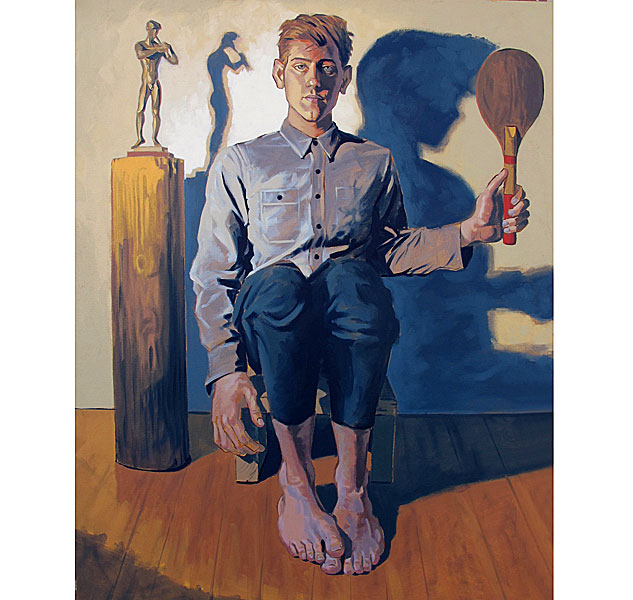 Static, 2012, oil on canvas, 28" x 22"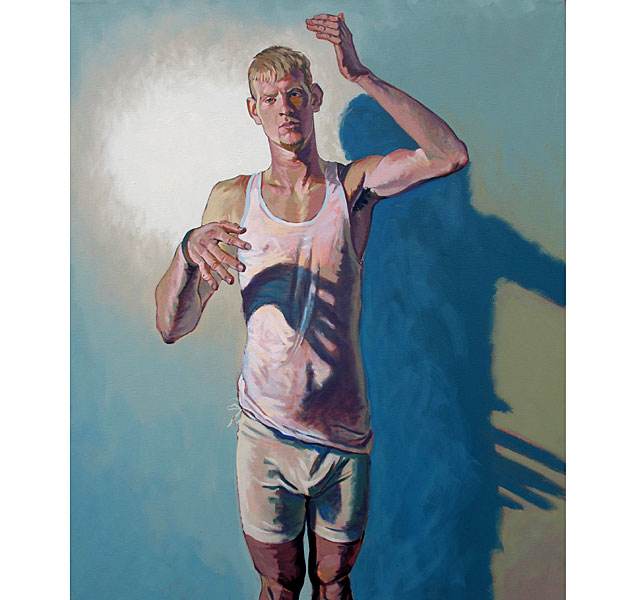 The Cloud Hotel, 2012, oil on canvas, 24" x 20"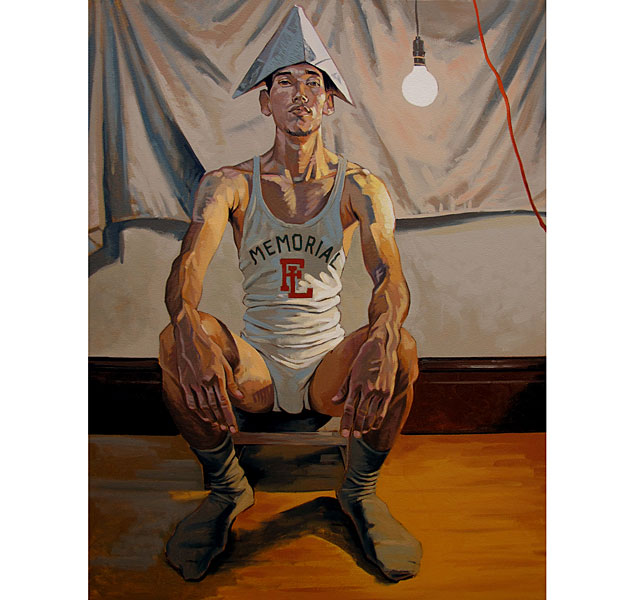 The Last Night of the Fair, 2012, oil on canvas, 28" x 22"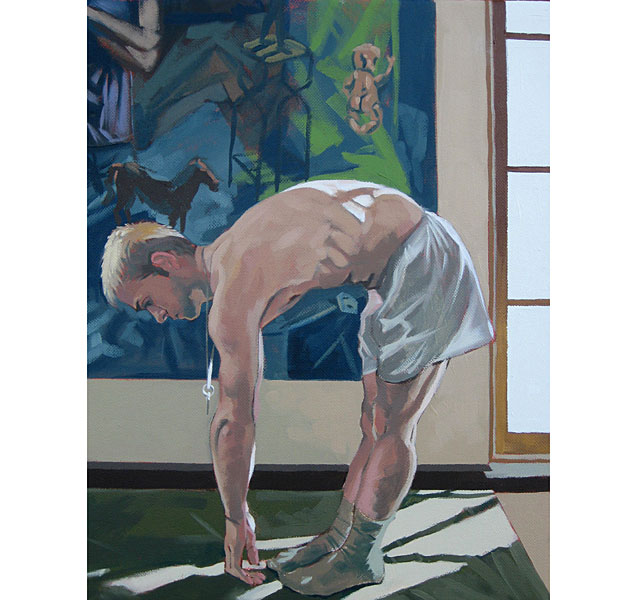 Untitled (Garet), 2012, oil on canvas, 14" x 11"
---
Links:
[1] http://www.advocate.com/
[2] http://christophersousa.tumblr.com/
[3] http://www.agalleryart.com/
[4] https://www.facebook.com/Woodmanshimkogallery?fref=ts
[5] http://www.advocate.com/arts-entertainment/art/artist-spotlight